Are you looking for the best yellow gold grills in Houston, Texas? Do you need yellow gold grills to flaunt your beautiful and charming personality? If yes, then GotGrillz is the perfect destination place for you. We are a leading teeth grills manufacturer that can offer a huge variety of designs, styles, and colors for high-quality gold teeth grills. Whether you need to nail down any special event or occasion or if you need to enhance your charming personality with golden and shining teeth grills, then you should go through our online teeth grills shop.  
As you know, there are many pretty gold grills that are currently available at our online store. Be it the trending bar teeth blings or diamond-tipped yellow gold grills, you will find it all available in our exclusive teeth jewelry collection. Most customers will ensure to add yellow gold grills teeth in their cart as they are beautiful, shiny, polished, and matches plenty of your outfits. To scroll through our amazing collection of yellow gold grills, click here and order your favorite teeth grills. For more information, you can also reach out to our expert professionals at (832) 781-4528.
Check Out Our Top 3 Yellow Gold Teeth Grills
It is possible to find a wide variety of teeth grills at GotGrillz including the excellent gold teeth grills. Here are our top 3 yellow gold teeth blings that you can shop online at GotGrillz.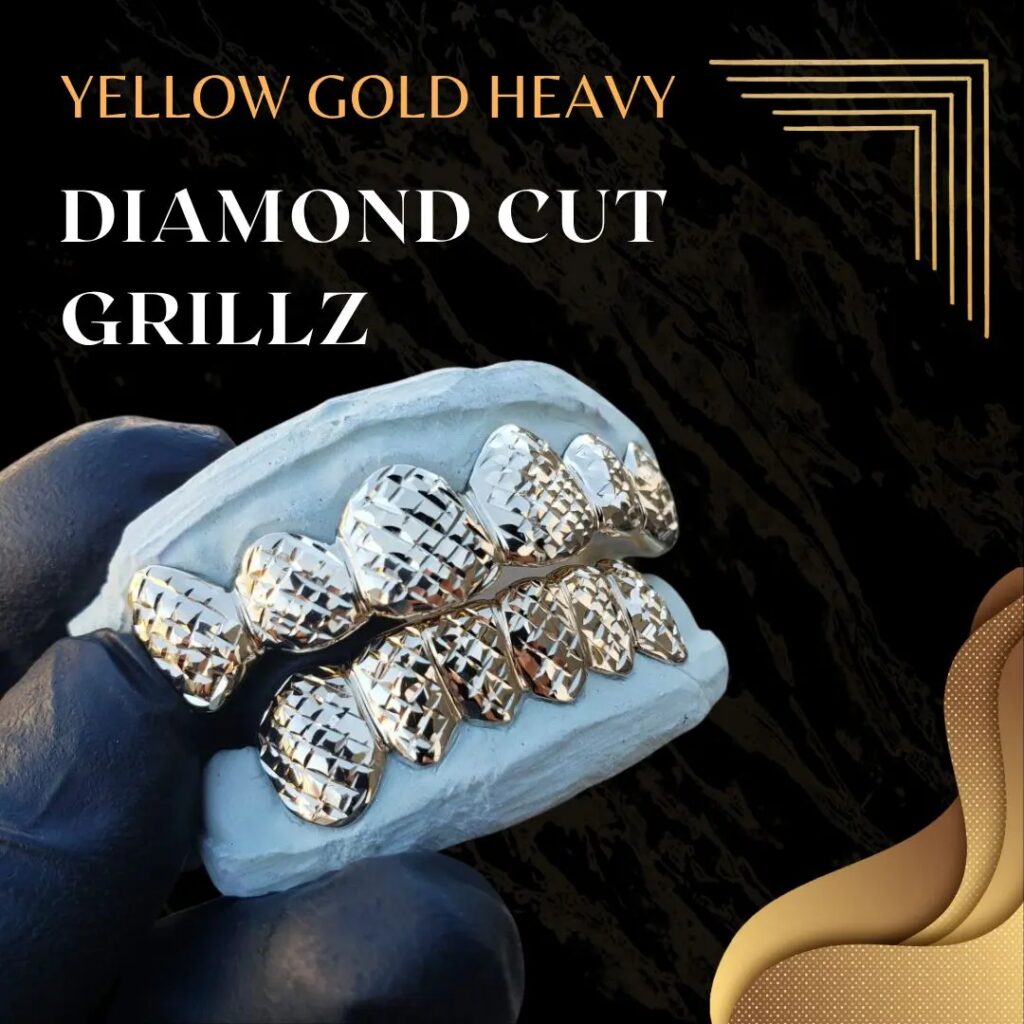 Yellow Gold Heavy Diamond Cut Grillz
As a customer, you can get this yellow gold heavy diamond cut grillz in 3 options – 10K, 14K, and sterling silver. It will be a perfect set of yellow gold grills if you want to attain your friend's party or any rocking concert. Flaunt your mind-blowing personality by wearing these teeth grills. Gold, white, rose, and black color variants will make your appearance perfectly suitable for almost everything. Buy now at only $150.
Yellow and White Gold Tipped Diamond Dust Cuts Grillz
If you are more interested in purchasing teeth grills with a combined material of gold and diamond, then this Yellow and White gold tipped diamond dust cuts grillz is made for you. Also, in case, you have some other design or style on your mind, our skilled professionals will craft the exact yellow gold grills with your preferred design and style. Order now at only $155.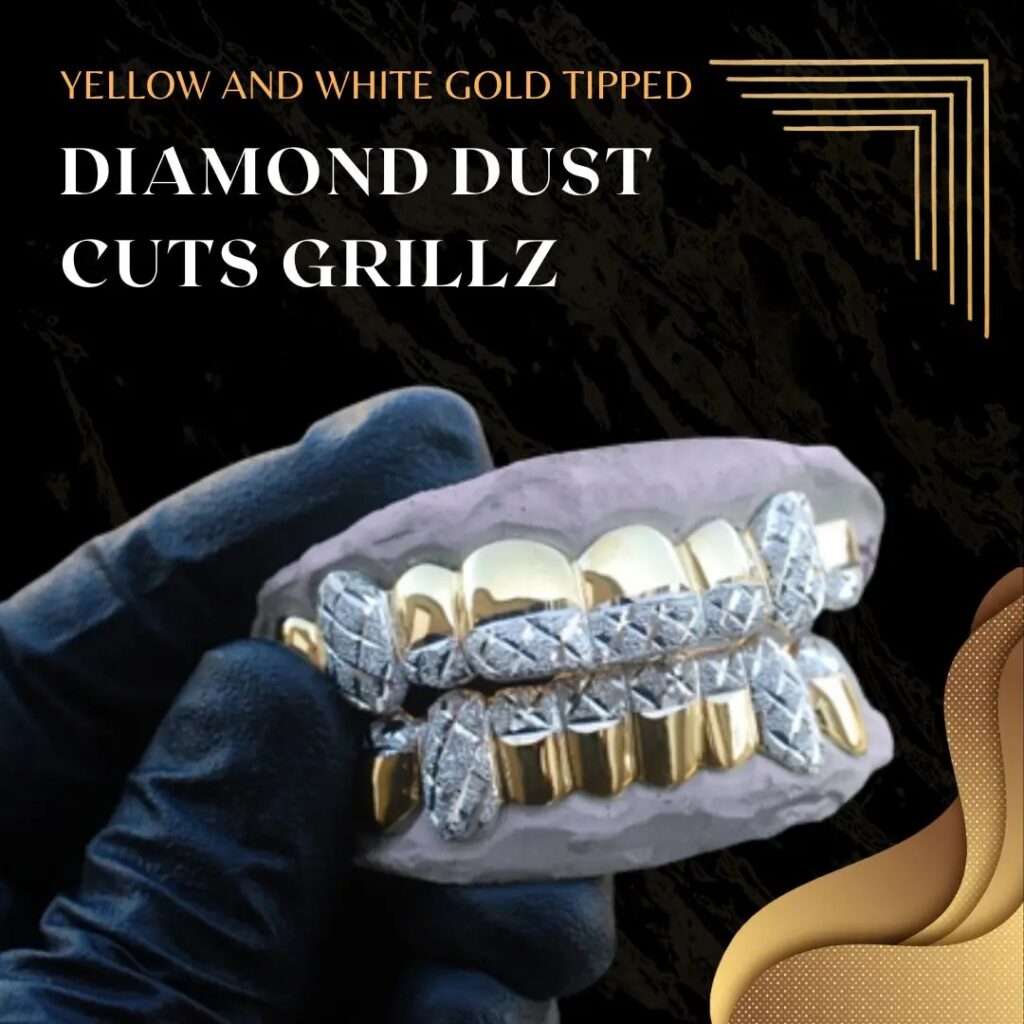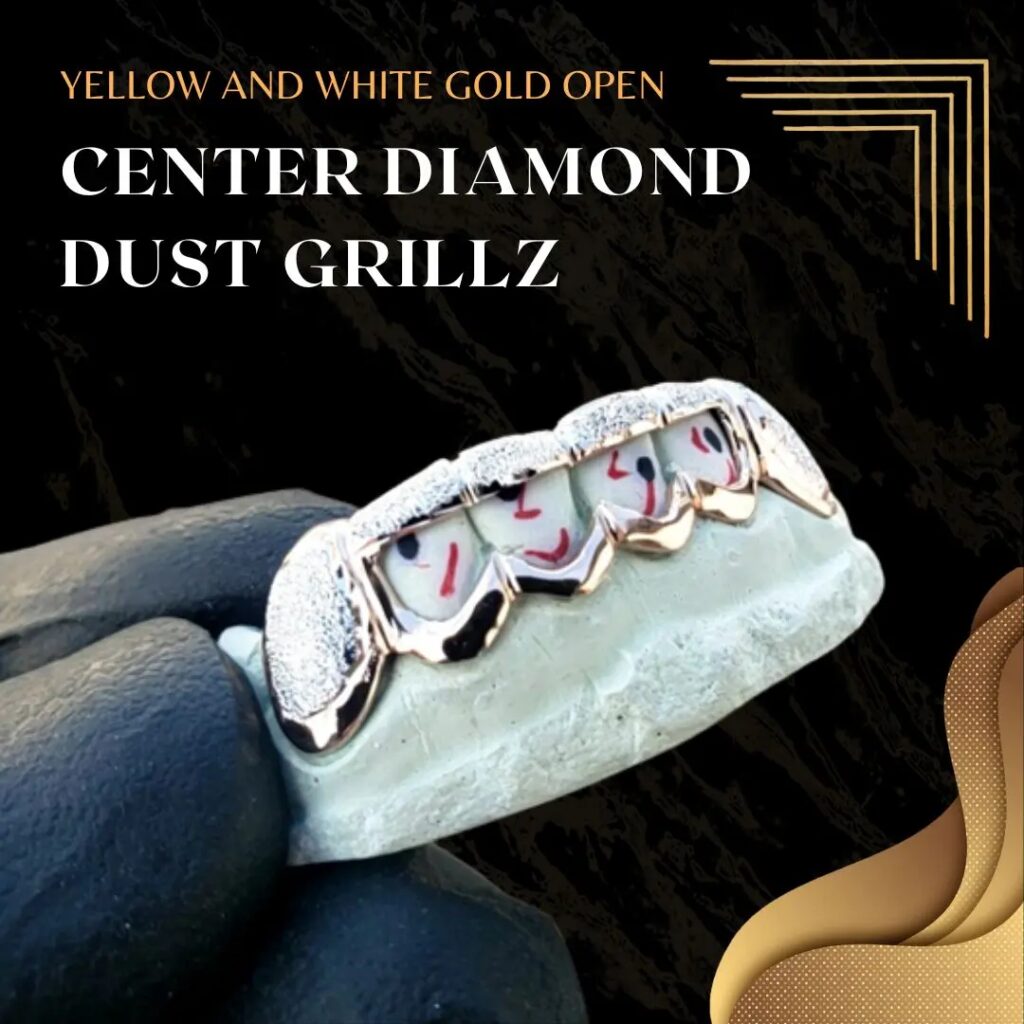 Yellow and White Gold Open Center Diamond Dust Grillz
These yellow and white gold open center diamond dust grills will be a perfect match for your apparel when you need to wow your friends and colleagues. From offering quality designs to relevant color options, our teeth grills manufacturers can build astonishing teeth grills that you will definitely love to wear. Get these amazing white and yellow gold grills at just $155, Shop now.
Order Gold Grills For Teeth Now – Contact Our Professionals or Visit Our Shop!
With hundreds of quality teeth grillz to choose from, GotGrillz has an exclusive collection of yellow gold teeth blings. Different styles, designs, and colors are what make our customers happy. But we also take care of custom grills manufacturing requirements that our valued clients make. Consider our online teeth grills shop as your One-Stop-Shop to explore the exceptional variants of gold teeth grills. You can always order online from our official online teeth grills store, or you can contact us. Kindly follow us on Facebook to get more updates and information.