When you are looking for custom gold grills online, there is no better place than GotGrillz to buy astonishing gold teeth grills. Carved out with pure gold and natural diamonds, these Houston-based teeth grills manufacturers have a wide range of teeth grills. From classic yellow solid teeth grills to sparkling diamond teeth grills. It will be perfect to order custom gold grills if you want to purchase something other than what we have enlisted in our exclusive collection. With our personalized gold grills, you will have the option to instruct our teeth grills manufacturers to craft astonishing grills as per your preferable color, design, style, and variants.
Available in 10K, 14K, 18K, or 22K, our premium quality teeth grills can make your appearance better. Shine brightly with sparkling diamond and gold grills only to let your friends and relatives praise your grills. With GotGrillz – A leading teeth grills manufacturer as your partner, you can customize the teeth grills any way you want to. Be it, Katy Perry or Eminem, you can instruct our highly skilled professionals to make the same teeth grills your favorite celebrity, pop star, or rapper wears. Have a glance through our excellent collection of custom gold grills in Houston and shop for the most suitable grills to wear on any special occasion or event.
Enhance The Beauty and Charm Of Your Personality With These Customized Gold Teeth Grills
Here, we have listed down some of the best-selling custom gold grills that many of our valued customers have purchased. We are sure that you will never regret if you buy any of the below custom gold teeth grills for yourself or your loved ones.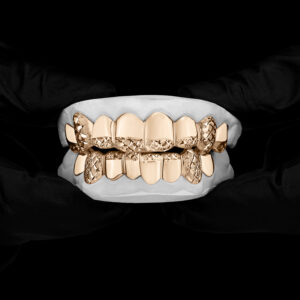 Yellow Gold Diamond Dust Cut Tip and Full K9 Top and Bottom Grills
Do you need to flaunt your beautiful and charming personality? If so, then this yellow gold and diamond dust cut tip and full K9 grills are perfect for you. Not only these custom gold grills are durable, shiny, and astonishing but also it will provide you with high confidence to outshine people around you in any event or occasion. Shop now at only $155.
Yellow Gold Full Diamond Dust Grills
The sparkling, shining, and stylish custom yellow gold full diamond dust grills will help you get a unique and new look. It will definitely match all your outfits, accessories, and jewelry you will wear when going to any special party or concert. These custom yellow diamond dust grills are available in different color shades and styles, Order now at only $155.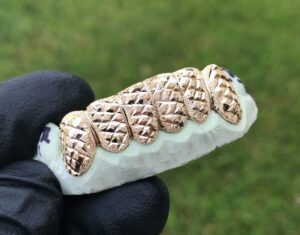 Yellow Gold Full Diamond Dust Cut Grills
When you need to wear something funky and unique, try this yellow gold full diamond dust cut grills. The zig-zag cuts in the custom yellow gold teeth grills can give you an elegant look with not too shiny and sparkly appearance. It will be the best grills for people who want to keep it simple. Buy now at only $155.
Reach Out To GotGrillz Professionals and Order Your Custom Gold Teeth Grills Today!
Want your loved ones to go speechless? Gift custom gold grills made by GotGrillz. Yes, it will be a perfect gift to give high-quality and customized gold grills to your friends, family member, and loved ones. Whether you want to get solid polished gold grills or you need to buy shiny open-face gold grills, our exclusive collection of custom gold grills has them all. You will only have to go through our handpicked collection of teeth grills and select the best one you would love to wear. Or just order custom gold grills at our official online teeth grills shop with specific instructions and details for our teeth grills experts.  
Kindly get in touch with our highly experienced and skilled professionals to order custom gold grills. You can also directly call our experts at (832) 781-4528 to get more information about any of our products. Do not forget to follow us on our official social media accounts on Facebook and Instagram.
Also More Blogs: