People that are searching for Nelly Grillz would really love to get custom teeth grillz just like Cornell Iral Haynes Jr. (Nelly) – A famous American rapper, singer, and actor. Although Nelly has been a fashion celebrity since his first debut album released in 2000, he is still popular and praised by his fans for the amazing teeth grillz he wears. It is really amazing to wear high-quality black gold and diamond grillz with a unique style and design. There are many celebrities that are wearing teeth grillz nowadays including Lil Wayne, Eminem, Rihanna, Miley Cyrus, Jay-Z, and many others.
Some of the most popular songs of the 48-year-old American rapper are "Dilemma", "Just A Dream", "Hot In Herre", and "Grillz". It is sure that there are thousands of fans and followers of Nelly that have been wishing to wear the same teeth grillz that the renowned actor wears. If you too are one of those fans and want to order custom teeth grillz similar to the popular actor Nelly. It will be perfect to gift Nelly Grillz to your loved ones if they love to listen to Nelly's songs.
Have A Look At The Teeth Grillz In The Music Video – "Grillz" By Nelly
The relationship between Nelly and grillz had been trending as soon as his song and music video, "Grillz" was released in 2009. The amazing hip-hop song featured Nelly with Paul Wall, AIi & Gip in the music video. Watch the fashion icon wearing customized teeth grillz throughout the video song. Watching the video, you will definitely get an idea of how custom gold and diamond grillz can enhance your personality and looks.
Gold and Diamond Nelly Grillz Are Really Amazing!
Whether you need similar Nelly Grillz for yourself to enhance your charming personality or if you need personalized teeth grillz like Nelly to nail down any special event or occasion, GotGrillz can help. Checkout our personalized collection of ready-made teeth grillz, Click Here. GotGrillz is a leading teeth grillz manufacturer based in Houston, Texas. So, if you want to place an order for custom teeth grillz made up of high-quality VSI or natural diamonds and 14K gold purity then our professionals can assist you. Our teeth grillz manufacturers can craft beautiful and astonishing teeth grillz that look the same as Nelly grillz. Reach out to us today at (832) 781-4528 for more information.
White Gold and Diamond Princess Cut Grillz
Wearing this white gold and diamond princess cut teeth grillz that looks just like Nelly Grillz. You can choose the gold purity and the quality of diamond used to craft this beautifully designed and stylish teeth grillz. Have a look at the below product specifications before purchasing teeth grillz similar to the famous rapper Nelly.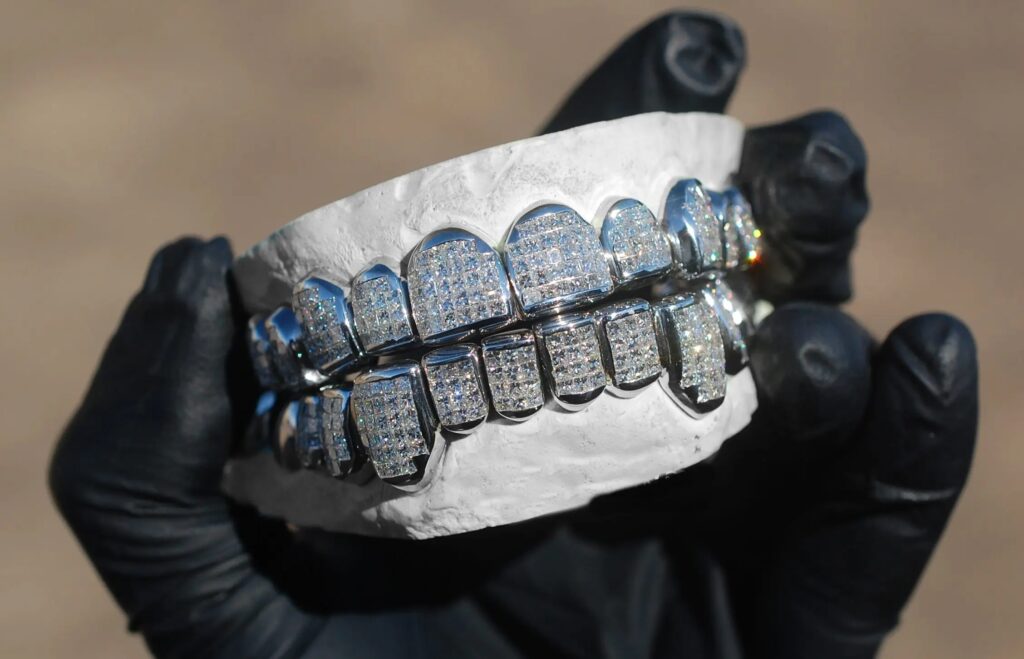 Product Specifications:
Metal: 14K Gold
Metal Color: White, Yellow, Rose, or Black
Weight: 3-7 grams based on tooth size
Size: Custom
Stones: Invisible Set Princess Cut Diamonds, VS quality
In case, you are looking for personalized teeth grillz with 18K Gold, or VVS Stones, then please feel free to contact us! It will be a perfect fit as GotGrillz will send you a mold kit to get your dental impressions before our professionals will craft teeth grillz. Order this amazing white gold and diamond grillz that looks like Nelly grillz at GotGrillz, Shop now for only $750.
Contact GotGrillz and Buy Custom Teeth Grillz Like Nelly
No matter if you want to get the same teeth grillz like Nelly or if you want our professionals to craft customized teeth grillz based on your preferences, GotGrillz can make it possible for you. We have a team of highly experienced and skilled teeth grillz manufacturers who will ensure maintain the quality and design of the teeth grillz you order at GotGrillz. Not only you will get an excellently-designed teeth grillz to wear on a special event but also you can get the chance to flaunt your amazing smile by wearing our custom teeth grillz. Contact us today or give us a call at (832) 781-4528 to discuss your personalized requirements for teeth grillz. Also, stay connected with us on Facebook and Instagram to get the latest updates and information.