When it comes to black gold grills in Houston, Texas, GotGrillz has a wide variety in its huge teeth grills collection. Black color is one of the most loved colors by men as well as women when focusing on the fashion and jewelry industry. Not only you will find various interesting styles and designs but also it will be an affordable and classy option to choose black gold grills for your next event celebration. Be it solid caps, open faces, diamond dust cuts, fangs, or custom bar grills, our online teeth grills shop has them all in black gold and diamond grills.
Many celebrities, singers, rappers, and influencers wear black rhodium teeth grills to flaunt their beautiful and sparkling smiles. It will be perfect to buy black gold grills to enhance your charming personality and overall aesthetics. In our black gold grills collection, you will find 10K, 14K, 18K, and 22K black gold variants. Each of our black grills is carved out beautifully with detailed, highly polished, and high-quality natural diamonds and gold. With our premium black gold teeth grills, it will be possible for you to get a unique and classy appearance. Our valued patients can visit our offline teeth grills shop in Houston or glance through our exotic black gold grills collection.
Which Black Gold Grills To Buy At GotGrillz?
We know that many people get confused when looking through a variety of teeth grills designs and styles. That's why we have enlisted here some of our best-selling black gold grills teeth in Houston, Texas. Have a glance through below black grills and buy your favorite one.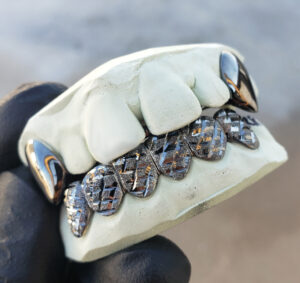 Black Gold Diamond Dust Cut K9 and Bottom Solid Grillz
Starting from only $150, these black gold and diamond dust grills are perfect when you need to outshine people around on any occasion. The polishing and appearance of this K9 Bottom Solid Black Grills are what make it look astonishing. Add deep cuts to give the teeth grills an awesome permanent look or add extended fangs as per your preference. Order now if you want to showcase your unique and classy personality.
Black Gold Diamond Dust Cut Grillz
These Black Gold Diamond Dust Grills are really classy and shiny. If you want a sparkling smile to flaunt confidently then you should make sure to purchase this set of black gold grills. Available in 10K, 14K, 18K, and 22K black gold variants, it will be possible for you to gift this tooth jewelry to your loved ones. Buy now at only $180 or choose the option of EMI starting from only $17 per month.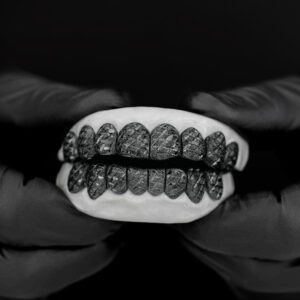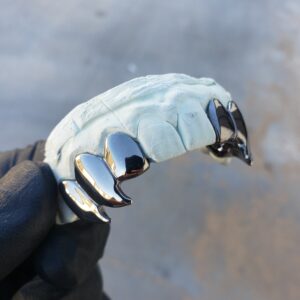 Black Gold Curved Wolf Fangs Top Grillz
We are sure that if you are going to order these black gold curved wolf fangs grills, they will be a perfect match with your charming personality and beautiful outfits. The high-quality black gold with a great finish gives it an astonishing wolf fangs appearance. It will be the best thing to buy these black gold wolf fangs grills for any Halloween event or gift it to your relatives and friends. To wear these shiny polished black gold fangs grills, Shop now at only $370.
Shop Black Gold Grills in Houston – Check Our Collection and Contact GotGrillz!
Being a leading teeth grills manufacturer in Houston, Texas, GotGrillz can provide you with excellent quality black gold grills you will never regret purchasing. We have a team of professional and highly experienced manufacturers that can craft the finest black gold grills on your order. Scrolling through our teeth grills collection, you should make sure to choose the right fit according to your personality, outfit, and occasion. Also, you can order custom black gold grills by reaching our courteous staff at (832) 781-4528. Find your favorite black grills from our huge collection of teeth grills. For more information, you can contact us or leave a message on our official social media handles – Facebook and Instagram.
Also More Blogs: