Custom Grills Teeth are indeed the fashion trend of the season. Whether you want to prepare for a special occasion or if you are super excited about any important event or festival, custom grills teeth or fronts or grillz are the perfect jewelry for you to wear and enhance your beautiful smile. Although teeth grills are available in various shapes and sizes, most people have their own unique choice, preference, and intentions to invest in custom teeth grills. The grills are made with vivid materials such as gold, diamond, and silver-based on the requirements.
Teeth grillz that are shiny, stylish, and have a classy look to them are more likely to be picked up by enthusiasts who are indulged in hip-hop culture. It is a fact that teeth grills have been in the trend for many decades and they are more popular among celebrities, hip-hop stars, and individuals who love to enhance their smiles and personalities as well as make a statement, among the crowd. Some people have a misconception that gold and silver grills are only for rich people, but this is not true. There are many affordable options available in the market currently. As you explore the teeth grillz variants, you will find them in various styles, designs, materials, colors, and sizes.
One must know that the prices or rates of teeth grills may vary according to the size, material, shape, and design of the grill. You can get these grills from different sources like from a local store near you or from online stores like Amazon or eBay. One such trusted and well-known local teeth grills manufacturer that sells online teeth grills is GotGrillz and it has a wide range of teeth grills styles to offer. At GotGrillz, our exclusive collection of teeth grills has something for everyone. Explore our online teeth grills shop now and get your custom teeth grills at the best price.
Custom Teeth Grills
Custom teeth grills and their variants are a form of dental prosthesis that is used to replace missing teeth. A custom teeth grill is made to look like natural human teeth but with the main aim of enhancing the beautiful smile of the person who wears the grills. Custom teeth grills are also known as dentures, false teeth, or fake teeth. A custom teeth grill can be used to replace one or more missing natural teeth in either the upper or lower jaw.
The first custom grills for teeth were made up of porcelain in the late 18th century. In the early 20th century, they were usually constructed out of metal or plastic. While teeth grills made out of rubber and polyvinyl chloride (PVC) began to become available in the 1940s, these materials are not considered to be strong enough. Hence, the trend of teeth grills bends toward using materials such as Gold, Silver, and even Diamonds in crafting astonishing teeth grills. Nowadays, teeth grills are considered a sign of having a rich, charming, and attractive personality. Many celebrities, as well as individuals, love to wear shiny and sparkling teeth grills to stand out from the crowd.
Bottom Grills
There are a lot of different types of bottom teeth grills available in the market to choose from. However, one should only choose the custom grills teeth that suit best their personality and aura. But there are so many individuals who choose teeth grills that match their outfit, skin tone, or other wearables. There are mainly 4 types of teeth grills available; Diamond-shaped grills, square-shaped grills, circular-shaped grills, and rectangular-shaped grills.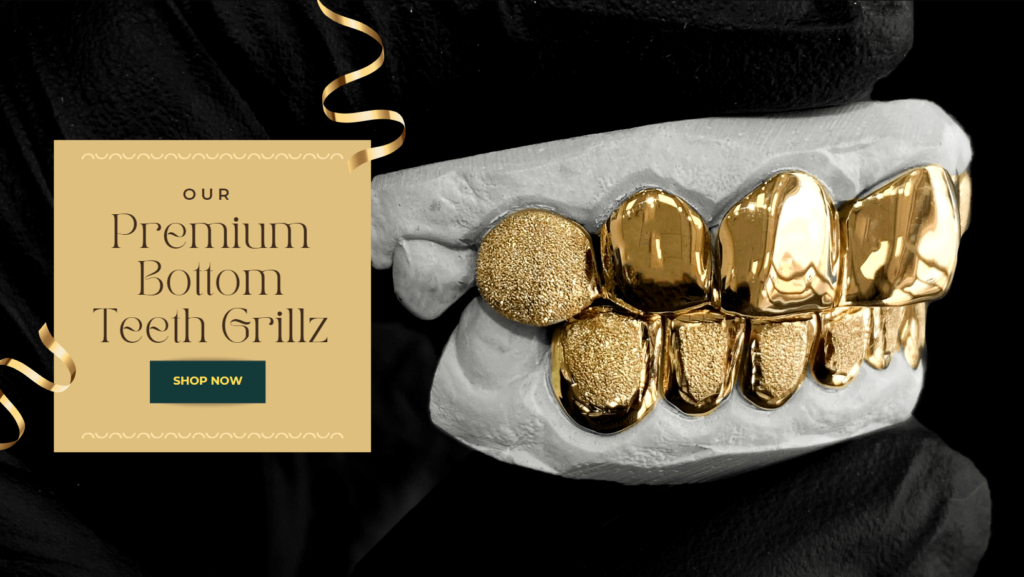 Most people believe that the first step in choosing your bottom grill teeth would be to figure out what shape you want your bottom grill to be in, whether it be diamond, square, circular, or rectangular shaped. Also, It's important to know that not all shapes will fit together with each other and some shapes are better for certain occasions than others. Like square and circular-shaped teeth grills are the best for more formal occasions while round grills are best for everyday wear. So, one should choose the bottom grills based on their needs.
Gold Grills For Fronts
Gold grills are not just a fashion statement, it has the potential to enhance your overall personality. Gold teeth grills have been around for decades and thousands of people have been using them as a way to protect teeth from damage while improving the beauty of their teeth. Gold grills can be used in many different ways, but some may wear grills to cover the front teeth and prevent them from getting chipped or broken.
When talking about gold teeth grills, one should know that there are different types of gold grills available in the market and they come in different shapes, sizes, colors, and designs. You can find gold grills with the option to cover the entire tooth or just the front part of it. At GotGrillz, you can see a wide range of collections for Gold grills for teeth collection.
Gold grills may range from as low as 15 dollars to over $400. As you know, the Gold grills are temporary but they can be cemented or bonded over the teeth to make them permanent. Gold grills can be really helpful for people with very small mouths who would typically have a hard time wearing traditional dental appliances that cover the entire mouth. If you are looking for a wide variety of gold teeth grills, then GotGrillz is the perfect online teeth grills shop to visit in Houston, Texas.
Shop Now At GotGrillz and Get Premium-Quality Custom Teeth Grills
GotGrillz is a leading teeth grills manufacturer in Houston, Texas offering the best range with optimistic designs and styles that suits your personality and charm. We have the latest collection of teeth grills and we can craft the most beautiful and sparkling custom teeth grills. In case, you are looking for simple and shiny teeth grills to wear a special event, then please scroll through our handpicked teeth grills styles at our online shop. However, if you are more into showing off your teeth grills to the surrounding people, our custom gold and diamond teeth grills will perfectly suit your needs.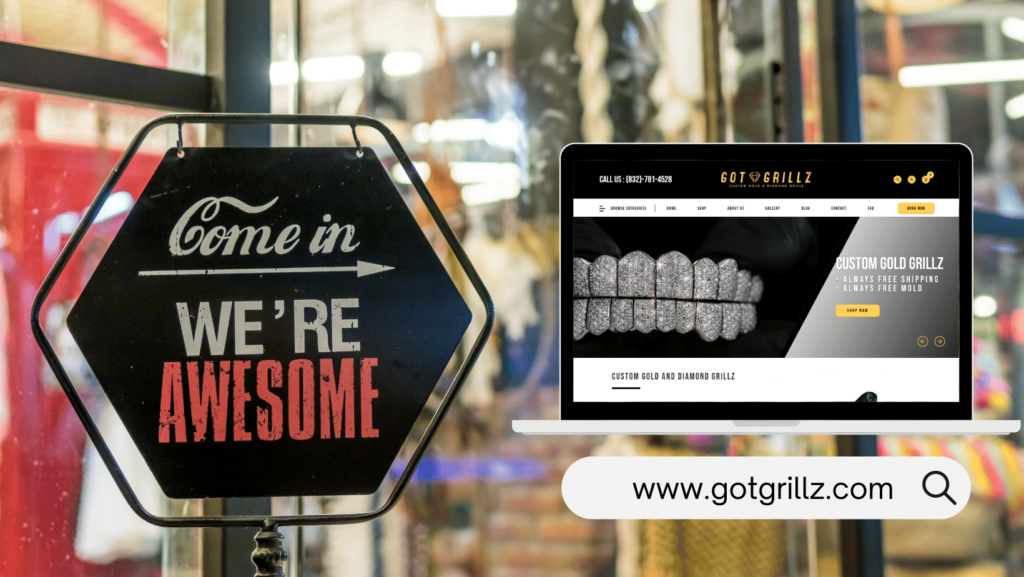 Feel free to contact our professionals at https://bit.ly/3xrKAdA to know how you can order custom grills and enjoy nailing your every outfit. Give us a call at (832)-781-4528 and discuss your custom requirements for teeth grills.