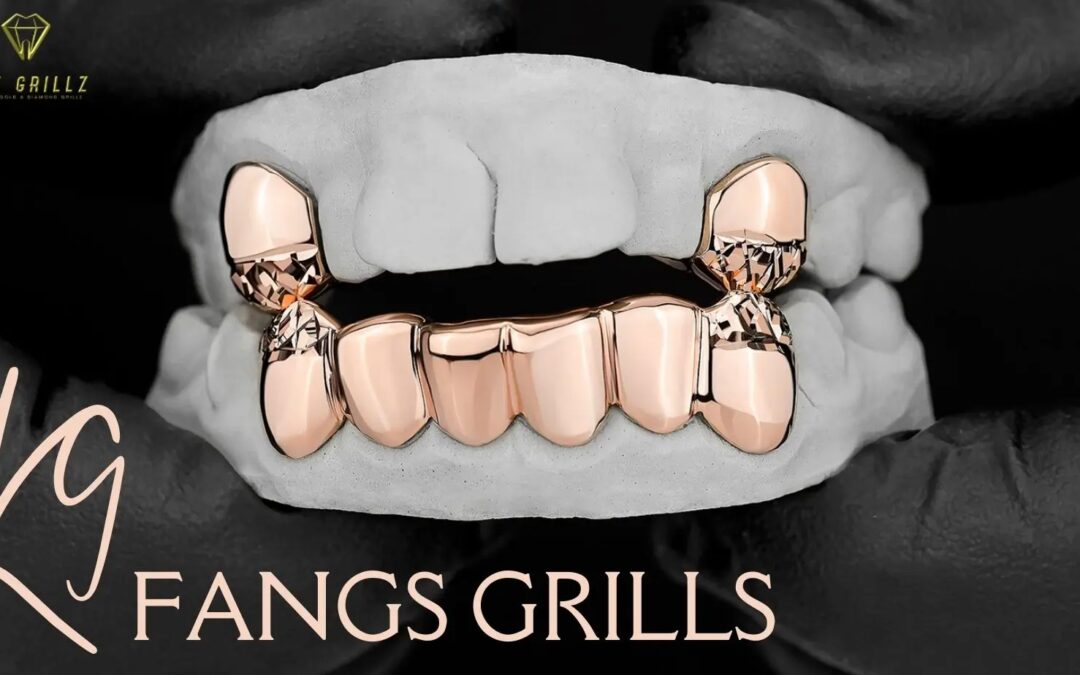 K9 Fangs grills are the perfect teeth jewelry one can choose to flaunt this Halloween event. At GotGrillz, we can offer you specialized custom K9 fang grills with an open-face cut and an optional gap filler. Whether you need to wear rounded fangs or you need sharp pointy fang grills, our well-experienced professionals can craft beautiful K9 teeth grills for you. In case you need to get one-size K9 grills that fit all, the only thing you need to do is instruct and inform our courteous teeth grills manufacturers about your requirement and they will make satisfactory K9 fangs gold and diamond grills to meet your expectations.
Bring back the confidence in your beautiful smile and charming personality by wearing astonishing custom K9 fangs grillz. Our well-experienced and skilled professionals will ensure to use of the safest materials and your preferable amount of gold purity while making excellent K9 fangs teeth grills. Not only you will enjoy the vampire look K9 fangs grills offer you but also you will not have to empty your wallet in purchasing the teeth grills. If you want to get unique, pointy, and real-looking fangs to enhance your spooky appearance then you should go through our exclusive collection of K9 Fangs Grillz.
Try Out These Amazing K9 Fangs Gold Teeth Grills For Your Next Halloween Party
Do you need to try out some of the amazing K9 fangs grillz for your next Halloween party or event? Have you got the excitement to create a spooky, dark, and pale vampire look? Wear the high-quality fangs grills with the black or red cape and you can cosplay the vampires from popular movie series and TV shows like "Twilight" and "True Blood". Here we have listed down the perfect K9 fangs grillz that you can buy online for the next Halloween season.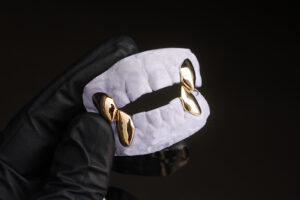 Yellow Gold Polished Solid K9 Extended Fangz
These yellow gold polished solid K9 extended fangs grills are custom-made for men and women. Create the pale vampire appearance by wearing the amazing and polished K9 extended fangs grills. Also, you can choose the metal purity, grills position, and color as per your preference while ordering these yellow gold K9 fangs teeth grills. Buy now at $150.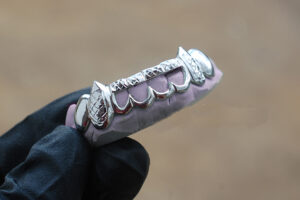 White Gold Diamond Cut K9 Fangz with Open Face Center Grills
Have you ever tried this White Gold Diamond Cut K9 Fangz? If not, then this is the time to sparkle your smile with this amazing product. Available in options such as 10K, 14K, and sterling silver, this is a budget-friendly teeth grills that will definitely add a wow factor to your overall personality. Shop now at $150.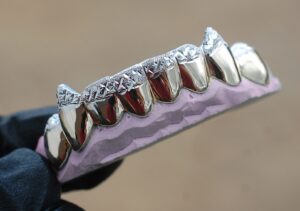 Yellow and White Gold K9 Fangz Tipped Diamond Dust Cuts Grills
if you are looking for teeth grills with a mixture of yellow and white gold beautified with diamond dust, then here are the most demanding teeth grills to add to your collection. It is one of the top-rated and best-selling teeth grills at GotGrillz at affordable prices and quick delivery options across the US. Order now at $155.
Need To Buy Custom Teeth Grills? Contact GotGrillz Today or Order Online!
Being one of the leading teeth grills manufacturers in Houston, Texas, GotGrillz can be the perfect online teeth grills shop where you can get premium-quality K9 fangs grillz. Going through our exclusive collection of K9 gold and diamond fangs grills, you will definitely find what you are looking for. Once you order your favorite K9 tops fangs grills from our online store at GotGrillz, we will send you a free mold kit to your address. Our customers will have to send the mold kit back to us with their teeth impressions so that our highly skilled teeth grills manufacturers can craft fangs grills that perfectly fit. To get more information about the wide range of teeth grills designs and styles we offer, kindly contact us or give us a call at (832) 781-4528. Connect with us on Facebook and Instagram.
Also More Blogs: