White gold grills are indeed a classic choice for any individual who wants to nail down any special occasion or event, without wearing glittering diamonds. There are plenty of celebrities and pop stars who have been witnessed wearing white gold teeth grills whenever they want to be the center of attention or need to make a statement. With our premium-quality white gold grills in Houston, Texas, it will be possible for our customers to flaunt their candid personalities. White gold grills are what one should purchase when they are confused about choosing the right color for teeth grills for their unique personality and taste.
No matter how hard people are trying to get attention at any party or rocking concert, we are sure that if you are wearing our shiny and polished white gold grills, then it will be a little difficult for them to keep their eyes off of you. Flaunt your charming personality in your own unique way by wearing custom white gold grills. GotGrillz can help you stand out from the crowd by crafting astonishing white gold grills that match your apparel, taste, and character. To experience the real beauty of white gold teeth grills, scroll down through our handpicked collection.
Explore Our Beautiful White Gold Grills Collection
At GotGrillz, we have got a wide variety of teeth grills, especially when we are talking about white gold grills. We suggest white gold teeth grills to our valued customers looking for wearing something shiny and not glittery. Here are our top 3 white gold grills that you may really like to try out.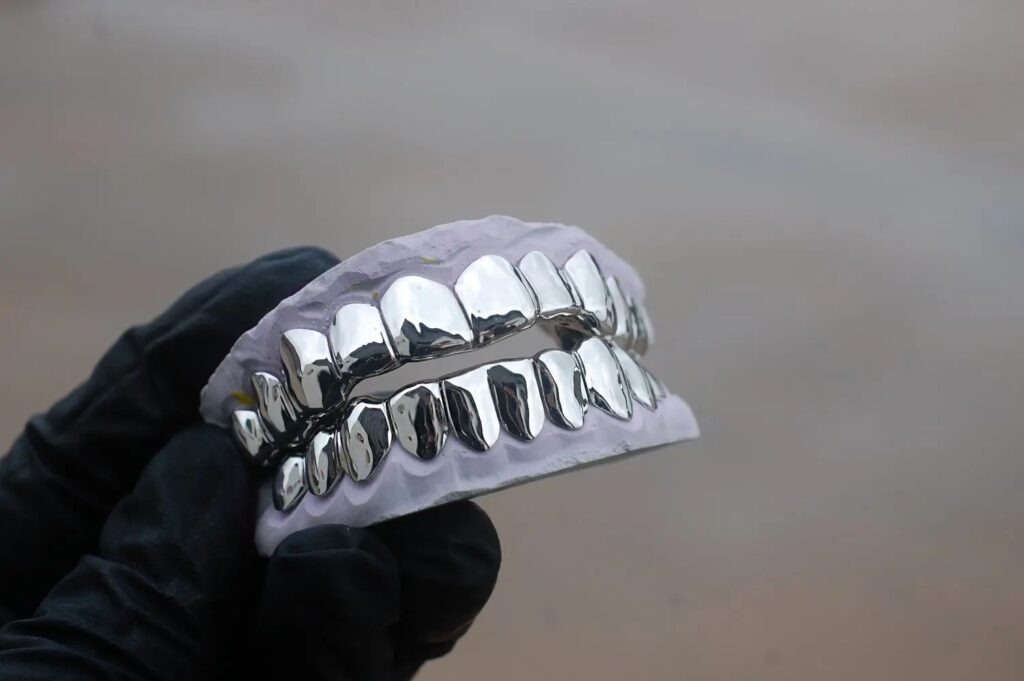 White Gold Classic Solid Gold Grillz
If you want to get simple and shiny teeth grills, then this white gold classic solid gold teeth grillz is perfect for you. There will not be much exaggeration added to your charming personality when you are wearing these white gold grills. Get these beautiful and astonishing white gold grills at just $150.
White Gold Satin Finish with Polished Diamond Cut Grillz
Are you interested in buying a perfect combination of gold and diamond teeth grills? This white gold satin finish with polished diamond cut grills will enhance your beautiful smile. It will create a unique and different version of yourself when your smile will sparkle all over the place with the glittery diamond and white gold grills. Shop Now at just $160.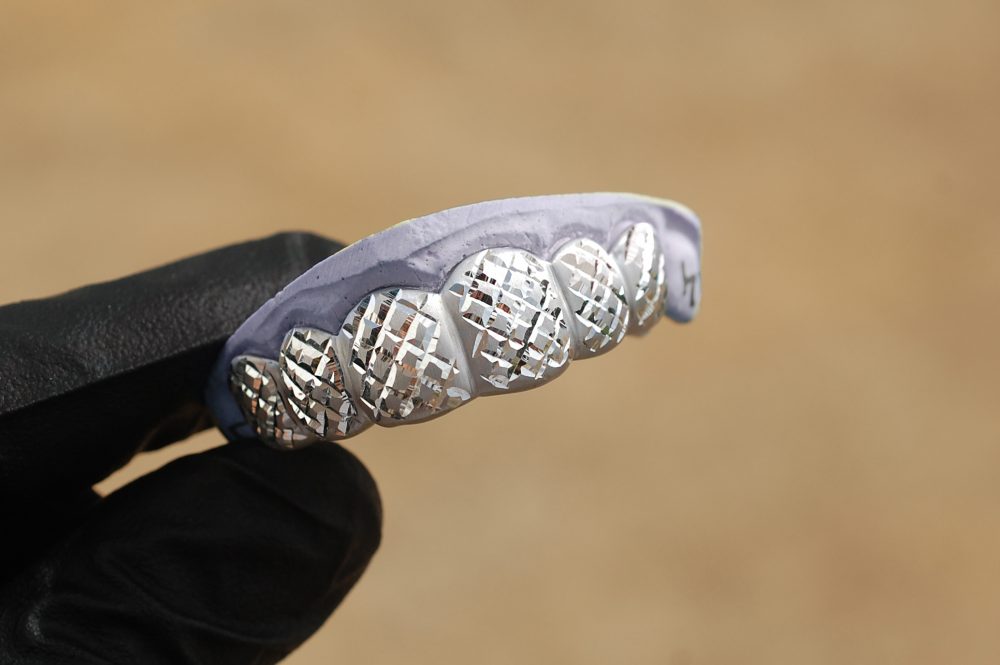 White Gold Diamond Dust K9 and Punchout Bottom Grillz
Experience the stylish design and comfortable fit by choosing this white gold diamond dust K9 and punchout bottom teeth grills. Along with the latest design, you will also get the advantage of enhancing your overall beauty. What are you waiting for? Just click on Buy Now and get these exceptional white gold diamond dust grills at just $155.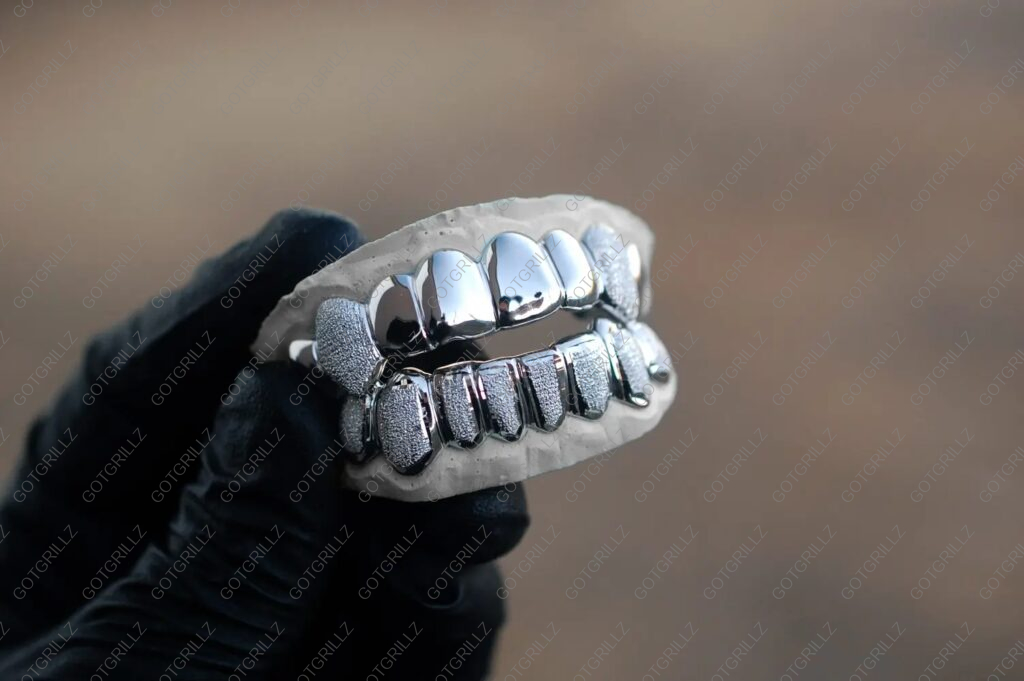 Reach Out To Our Professionals or Order White Teeth Grills Online Today!
Are you looking for an amazing set of white gold grills? Do you need our highly experienced teeth grills manufacturers to craft beautiful white gold grills teeth as per your custom requirements? If the answer to the above questions is yes, then you should definitely contact GotGrillz – A leading teeth grills manufacturer based in Houston, Texas. Yes, we are one of the top teeth grills providers in Texas offering a wide range of teeth grills designs, styles, variants, and colors. If you want to purchase any of our handpicked white gold teeth grills or if you want to order custom white gold grills in Houston, feel free to reach out to our experts at (832) 781-4528 or contact us. Kindly follow us on Facebook to get more updates and information.
Checkout More Products: