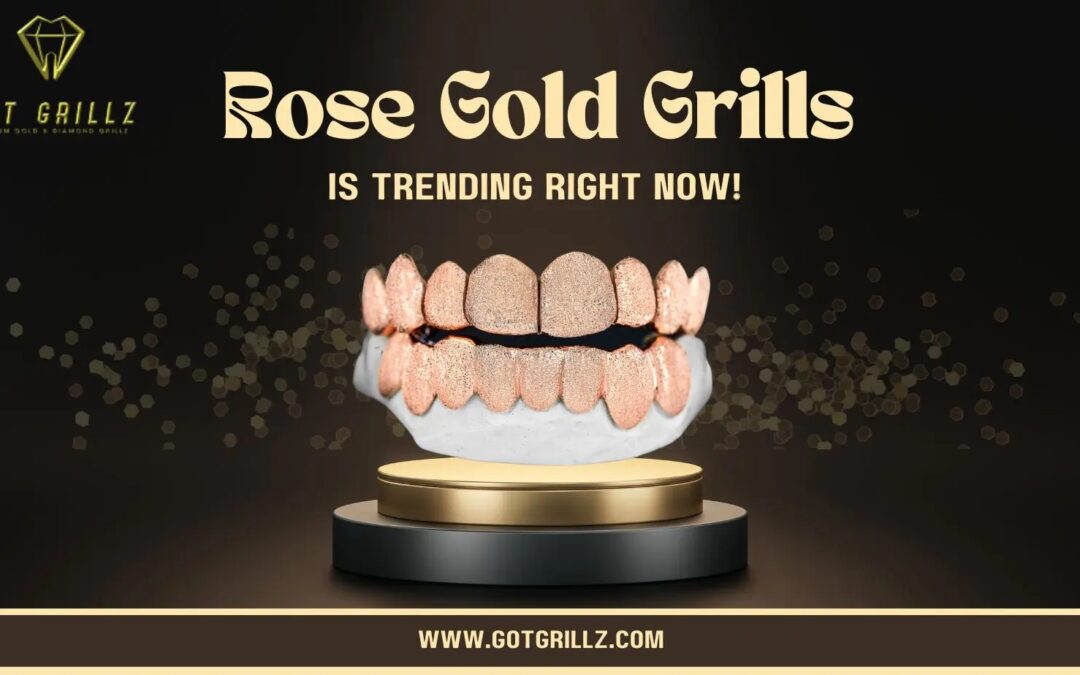 Rose Gold Grills are one of the favorite teeth grills designs among girls and women. They are the prettiest when our feminine clients wear rose gold teeth grills with matching wearables and apparel. Whatever the event or party is, it is sure that you will outshine everyone around by wearing the sparkling, shining, and glittery rose gold teeth grills. Also, rose gold grills are the best things you can gift to your loved ones.
Whether you want to gift rose gold teeth grills to your wife, fiancée, daughter, or a close friend, it will be an amazing gift that they will cherish for a long time. When we are talking about rose gold teeth grills for women, there isa wide range of varieties in terms of styles, designs, patterns, and color shades available. Some women may like polished finishing for rose gold grills in Houston while some others may love to wear shining rose gold teeth grills.
At GotGrillz, we have plenty of designs and styles for rose gold teeth grills. However, if you are interested in wearing the exact gold grills teeth as your favorite pop singer or rapper, then you can also order custom rose gold grills. Our highly skilled professionals will craft astonishing teeth grills using rose gold metal as per your specific requirements. Explore our online teeth grillz shop to go through our extensive rose gold grills collection.
Top 3 Picks From Our Exclusive Collection of Rose Gold Grills!
Well, it is a little bit difficult to choose the best suitable rose gold grills for you when there are over hundreds of styles and designs available. That's why we have listed down our top 3 picks from our exclusive collection of rose gold grills. These rose gold teeth grills are trending currently, and they have the potential to offer you a unique and astonishing appearance.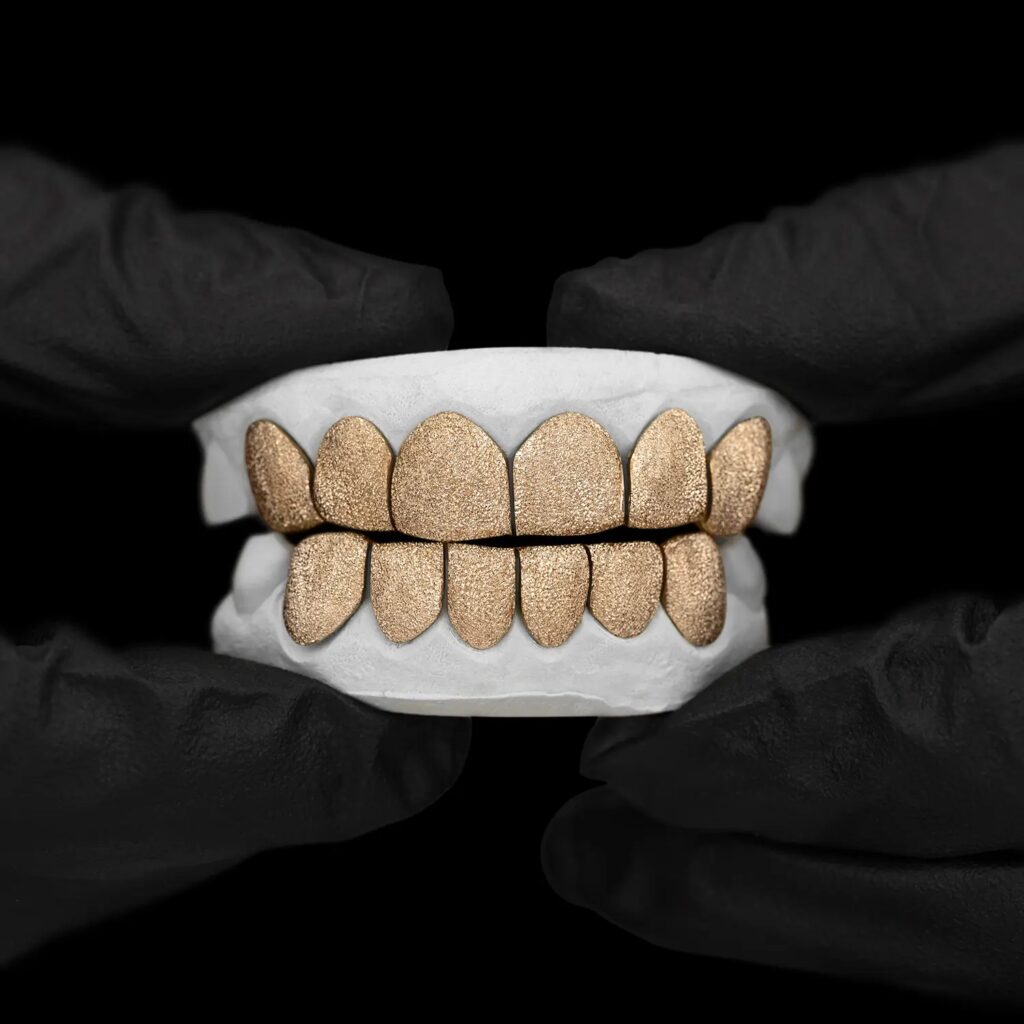 Rose Gold Full Diamond Dust Grillz
Rose gold full diamond dust grillz is indeed the perfect teeth grills you should wear on any special occasion or event. Whether you are visiting your friends for an amazing party or if you are going to a rocking concert, it will be possible for you to flaunt your beautiful smile by wearing rose gold grills. Available in different metal purity, this rose gold teeth grills jewelry can also be considered as a gift for your loved one. Order Now at only $155.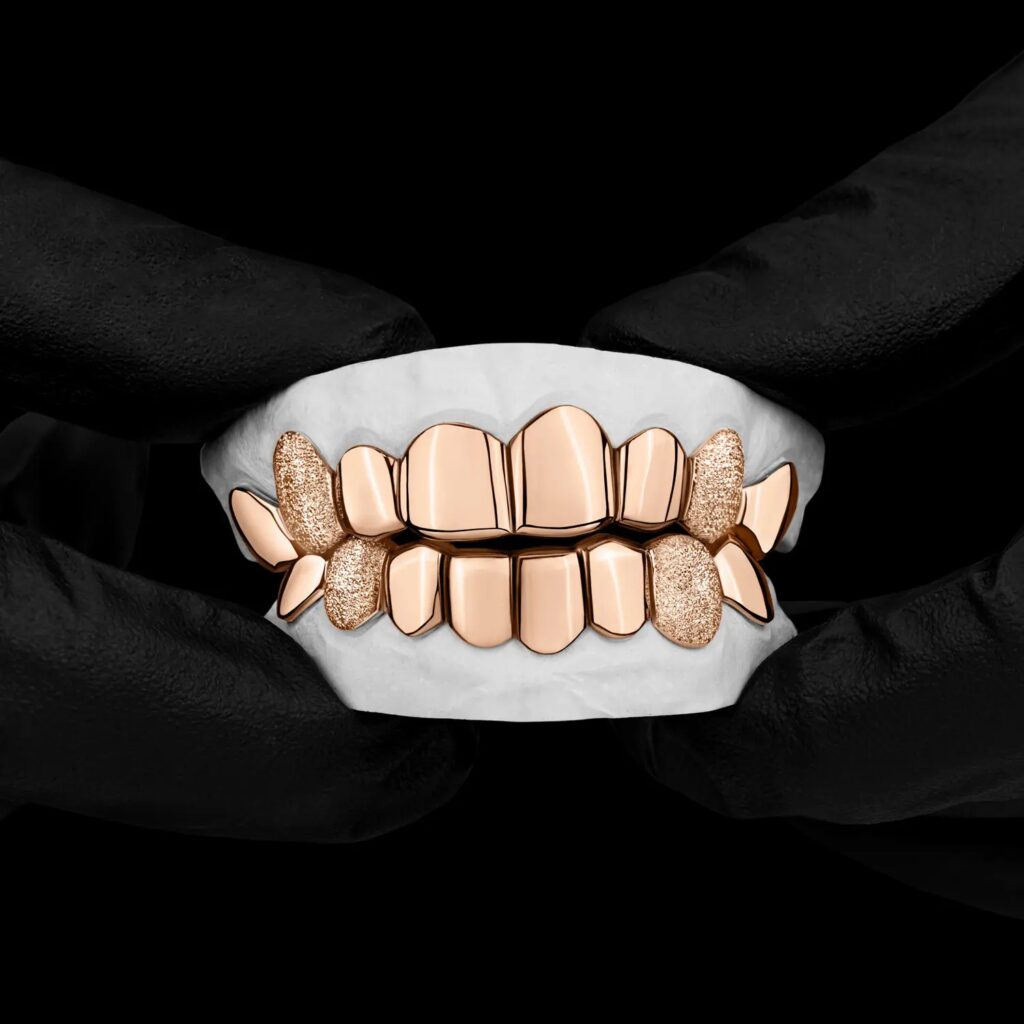 Rose Gold K9 Fangs Diamond Dust Grillz
K9 fangs and diamond dust rose gold grills are a great combination that can help you nail down any look. Get a charming vampire look at a Halloween party or outshine your friends and colleagues by wearing these astonishing rose gold grills k9 fangs. Starting from just $150, Shop Now and enhance your attractive personality.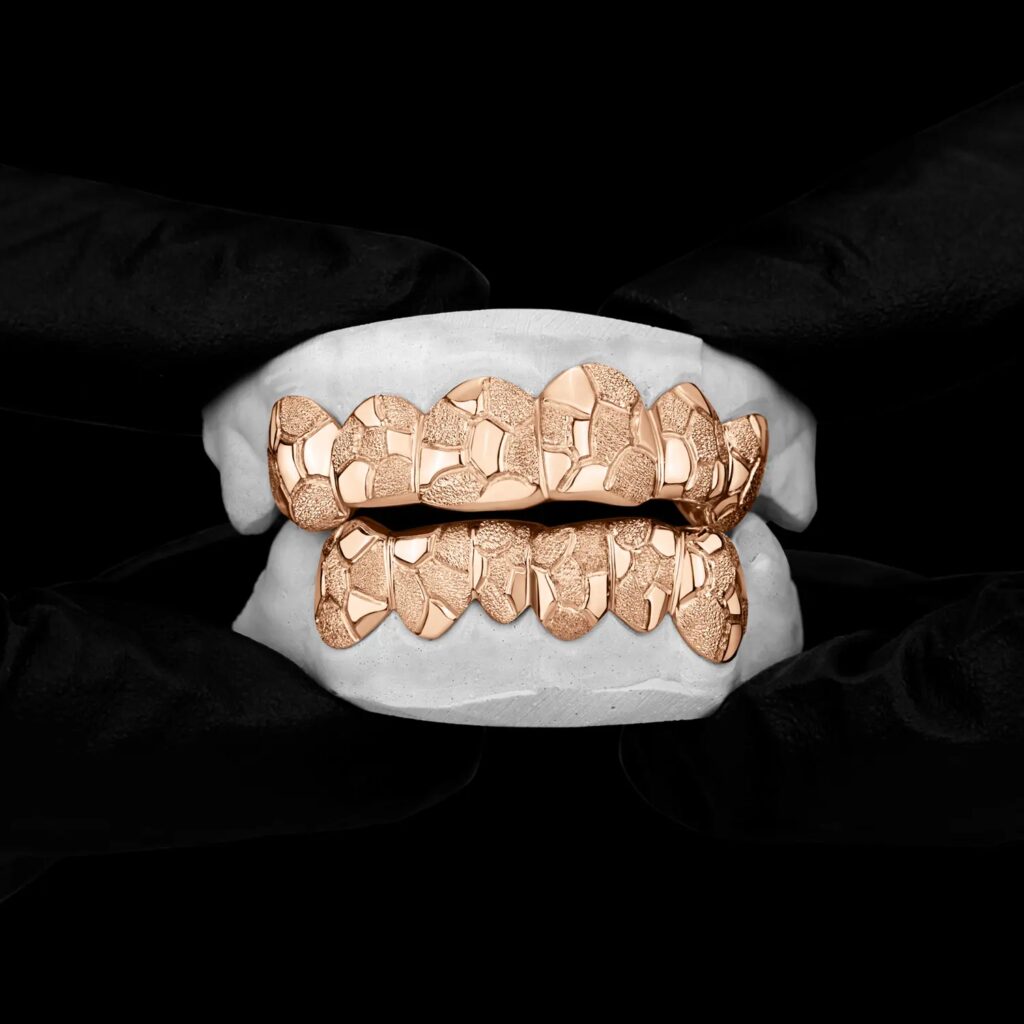 Rose Gold Nugget Grillz
Rose gold nugget grillz has a sleek design and unique style with a pleasing rose gold color shade that can make you feel like buying it now and adding to your teeth grills collection. The best thing about these rose gold grills is they will fit comfortably, filling in the gaps between your teeth. Do you want to wear these shiny nugget rose gold grills? Buy Now at just $180.
Shop Rose Gold Grills Online At Affordable Prices At GotGrillz in Houston, Texas!
GotGrillz is just like your neighborhood jewelry store where you can get a wide variety of readymade teeth grills and order 4pc set custom teeth grills. If you want to look the best version of yourself by adding just a little shine and sparkle to your teeth, then you should purchase our premium-quality rose gold grills. We are serving our valued customers by crafting sparkling and astonishing teeth grills for more than 15 years now. Our highly experienced and skilled teeth grills manufacturers can build custom rose gold grills as per your specific requirements. Get exceptional rose gold teeth grills online by exploring our exclusive collection. To order your favorite teeth grills or let us know your custom teeth grills requirements, please give us a call at (832) 781-4528 or contact us. Also, you can get the latest updates and information about our world-class teeth grills by following our social media handles on Facebook and Instagram.