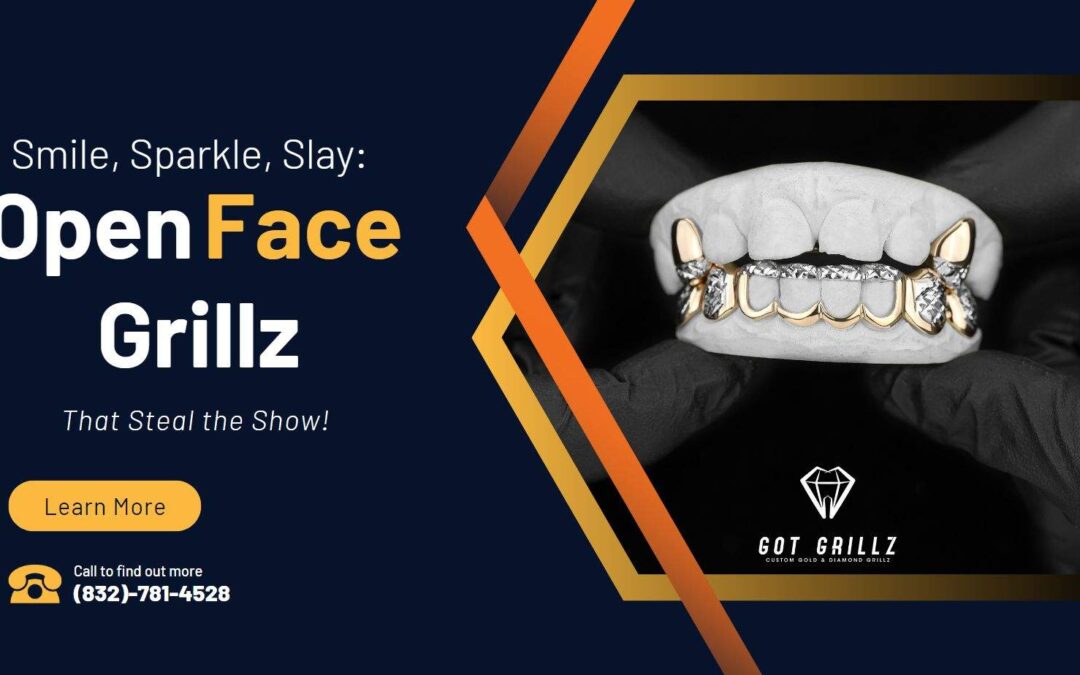 When it comes to making a bold fashion statement, it's all about the details. And what better way to enhance your smile and add that extra touch of sparkle than with open face teeth grillz? Also known as open face grill, these stunning teeth accessories have taken the fashion world by storm, stealing the show with their unique design and undeniable allure. There are online stores where you can find an ordinary open face grillz, but if you are looking for something remarkable, fresh, and unique then no one stands close to the collection of open face grill at GotGrillz. To buy open face grillz that suits your unique persona and style, kindly visit GotGrillz today. Are you looking for fancy Trillion Cut grillz to decorate your smile? At GotGrillz, we have something that you would love to have in your teeth grillz collection.
Also, let's understand why open face grillz are so famous and popular among fashion enthusiasts. Below are some of the reasons behind the popularity of open face grill:
The Allure of Open Face Grillz: Open face grillz are the epitome of style and confidence. Made from high-quality materials such as gold, silver, or platinum, these grillz are meticulously crafted to fit perfectly over your teeth, creating a dazzling smile that demands attention. Whether you're attending a glamorous event or simply want to add a touch of luxury to your everyday look, open face grillz are the perfect accessory. Don't miss the collection of open face grill at GotGrillz at affordable prices.
A Fashion Statement That Shines: Open face grillz are more than just fashion accessories for men; they are a symbol of status, style, and self-expression. With their intricate designs and shimmering gemstones, these teeth grillz elevate any outfit and instantly make you the center of attention. Whether you choose a classic gold grill encrusted with diamonds or a sleek silver grill for a more understated look, open face grillz are sure to turn heads and make a lasting impression.
Comfort and Durability: One might assume that wearing open face grillz could be uncomfortable, but that couldn't be further from the truth. These grillz are expertly designed to ensure a comfortable fit, allowing you to wear them for extended periods without any discomfort. Additionally, they are highly durable, ensuring that your investment will last for years to come. If you have any questions related to teeth grillz, then you can refer to our FAQs section where we have answered some of the most frequently asked questions.
How to Choose the Perfect Open Face Grillz?
When it comes to selecting the perfect open face grillz for you, there are a few factors to consider. Firstly, think about the material that best suits your style and budget. Gold teeth grillz exude luxury and sophistication, while silver teeth grillz offer a sleek and modern look. Platinum grillz are the epitome of opulence and are perfect for those who want to make a bold statement.
Next, consider the design and gemstones. From intricate patterns to personalized engravings, the possibilities are endless. Choose gemstones that complement your style and personality, whether it's a dazzling diamond or a vibrant colored gem.
At GotGrillz, we have the latest collection of open face grill to help you find a teeth grillz that suits your smile. Open face grillz at GotGrillz are made from 10K, 14K, and sterling silver.
Top 5 Open Face Gold Teeth at GotGrillz
At GotGrillz, we have a massive collection of open face grill for men. However, we have listed the top 5 and hottest open face teeth grillz that we are sure you will love. Have a look at the top 5 and the hottest open face grill at GotGrillz:
Not only this, but we also have many more open face teeth grillz to suit your unique personality at affordable prices. To buy an open teeth grill for you, please click here.
How to Care for Open Face Grillz?
To ensure that your open face grillz maintain their brilliance and shine, proper care is essential. Regularly clean your grillz using a soft toothbrush and non-abrasive toothpaste to remove any buildup or debris. Avoid exposing them to harsh chemicals or extreme temperatures, as this can damage precious metals and gemstones. Read our blog on how to care for teeth grillz for more useful and interesting tips by experts.
For More Teeth Grillz Varieties, Visit GotGrillz
Open face grillz are the ultimate accessory for those who want to make a statement with their smile. These show-stopping teeth fashion accessories not only enhance your natural beauty but also reflect your unique style and personality. With their exquisite design, comfort, and durability, open face grillz allow you to sparkle and slay on any occasion. So, embrace the allure of open face grillz and let your smile steal the show!
However, if you are willing to explore more teeth grillz in more varieties, then explore hundreds and thousands of teeth grillz options in different designs, styles, and material makings. Visit GotGrillz today. You can also like our Facebook page and follow us on Instagram to receive discount codes, new teeth grillz designs updates, and more on your timeline.
More Blogs: