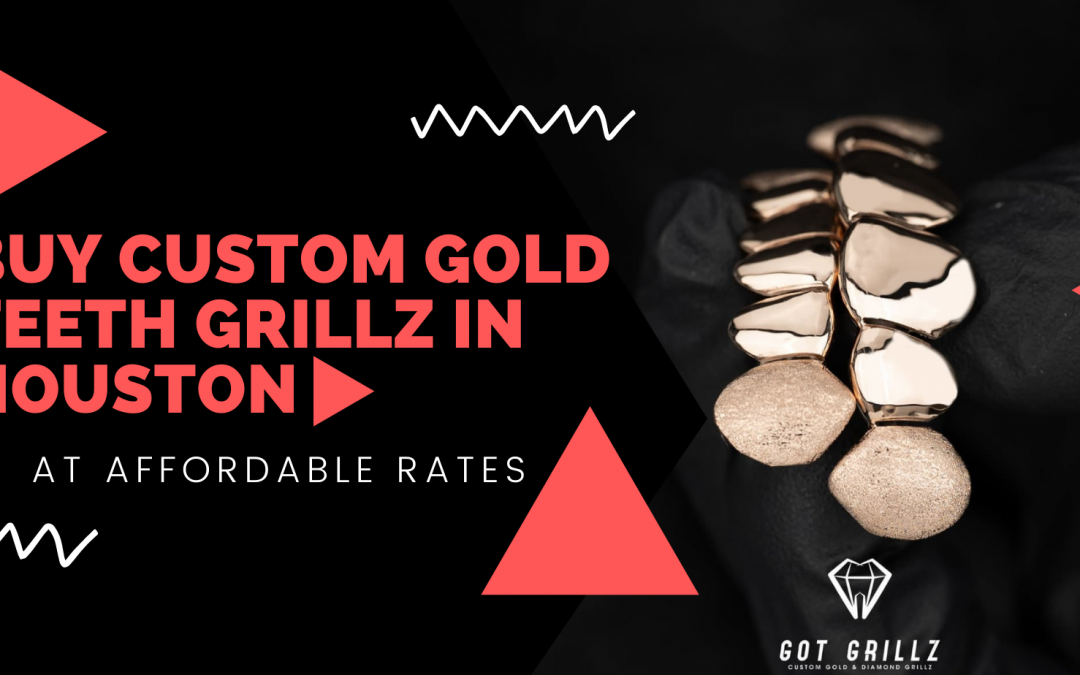 Do you have the wish to buy custom gold teeth grillz in Houston? GotGrillz is a leading and renowned online shop for custom teeth grillz that offers a wide variety of products at budget-friendly rates. If you want to get the finest teeth grillz designs and styles to nail down any special event or occasion, then you can make it possible by exploring our exclusive collection of teeth grillz. Whether you need a simple and classy teeth grillz or if you want to wear custom gold grillz in Houston that is not only glittery but also sparkly and shiny, you can get it at GotGrillz – a top-notch teeth grillz store in entire Texas.
Having several years of experience and expertise in crafting beautiful and astonishing teeth grillz, GotGrillz has been sharing a strong bond of trust among its valued customers. Being a renowned teeth grillz manufacturer, GotGrillz has a large number of customers to serve high-quality custom gold teeth grillz in Houston. We only use the purest quality of materials when it comes to crafting teeth grillz for individuals who are interested in enhancing their beautiful smiles. Our professional teeth grillz manufacturers will make sure to use natural diamonds while making custom diamond grillz. Sneak through our premium collection of teeth grillz including White Gold Grillz, Black Teeth Grillz, K9 Fangs Grillz, Custom Diamond Grillz, Custom Gold Grillz, and many more.
Events, Occasions, Parties, and Weddings can be the reason behind investing in teeth grillz. However, there are many people who have been following in the footsteps of their favorite pop stars or rappers and instruct our professionals to craft the exact teeth grillz they are wearing. As we have skilled and expert teeth grillz manufacturers at GotGrillz, we can craft astonishing teeth grillz the way you want it. Discuss your teeth grillz requirements with our courteous and humble staff by calling us at (832)-781-4528. Also, visit our official website for more information about gold grillz in Houston.
We know that you may have so many questions or doubts before investing in custom gold teeth grillz. That's why our helpful staff members are always ready and happy to resolve all your queries. No matter whether you are confused about which teeth grillz design is best suitable for you or if you want to know the amount of purity of the material we are using to craft amazing and unique gold grillz in Houston, you can directly reach out to us at (832)-781-4528. To order custom gold and diamond teeth grillz or buy any of your favorite grillz from our collection at discounted prices, Contact Us. Also, follow our official social media handles Facebook and Instagram to get the newest updates on our teeth grillz products.