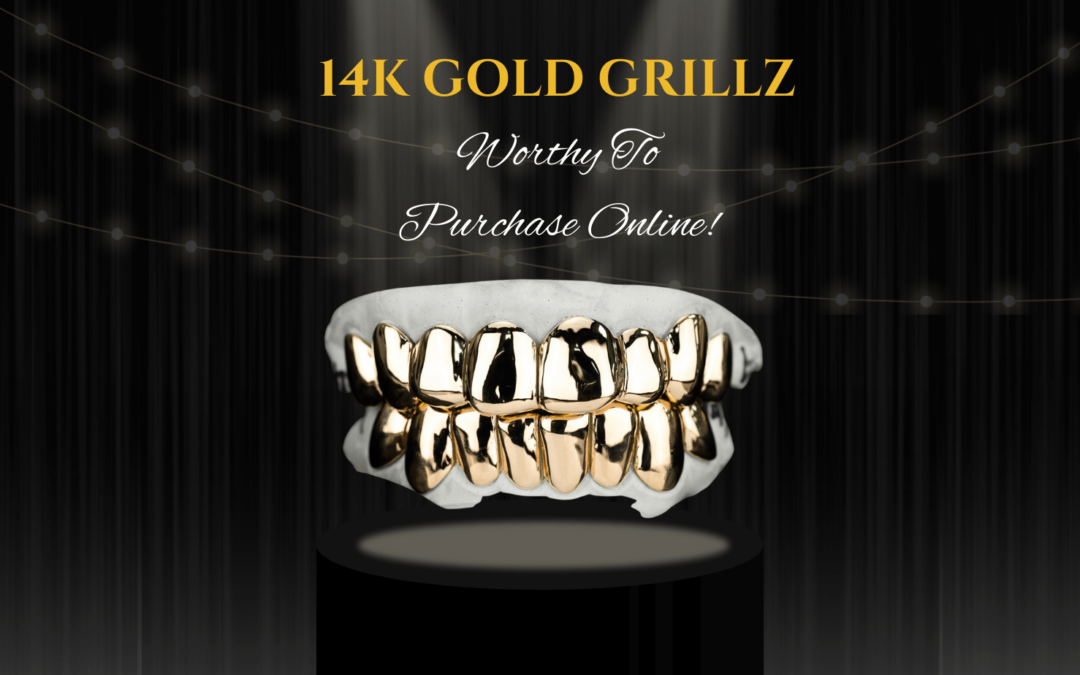 14K Gold Grillz in Houston is the best option when you need to make sure to get the most out of your look. Although teeth grillz have been in the trend for many decades now, there are so many people and individuals who want to buy teeth grillz but are confused choosing among numerous variants, styles, designs, colors, and purity of metals. Teeth grillz comes in all shapes and colors, be it open face grillz, diamond dust, deep cut, or any other trending styles.
Among 8K, 10K, 14K, and 24K, 14K Gold and Diamond Teeth Grills has the perfect golden yellow color to make you look your best at an affordable price. Along with the attractive color, you will find 14K teeth grillz to be smoother, durable, and charming. The combination of 14K gold teeth grillz in Houston with natural diamonds will be best if you want to showcase your wonderful grin at any event or occasion. 14K gold teeth grills Houston will always be worth investing your fortune in.
Shop Through Our 14K Teeth Grillz Collection
GotGrillz is one of the top leading teeth grillz manufacturers selling online teeth grillz at relevant price rates. We use only natural diamonds and the purest quality of gold while crafting unique, astonishing, and amazing grillz.
Not only our customers will select the prettiest teeth grillz from our ready-made collection but also they will order custom 14K gold and diamond teeth grillz with specific and personalized instructions. Having many years of experience and expertise, our professionals will ensure to craft excellent teeth grillz based on the precise instructions and details. We offer teeth grills with a wide variety of styles, designs, colors, and gold purity (8K, 10K, 14K, 18K, and 24K).
14K White Gold Grillz
14K white gold teeth grillz will offer you a simple but classy look to outshine everyone around. To nail down any special occasion or event, below given are some of the most suitable teeth grillz.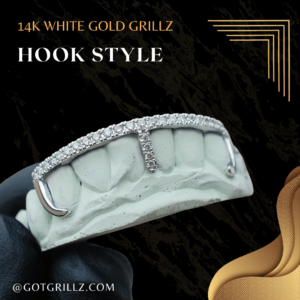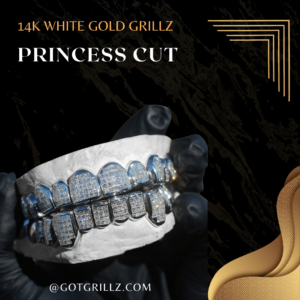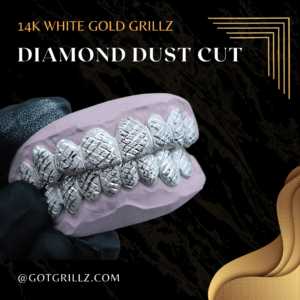 14K Yellow Gold Grillz
Buy 14K yellow gold grillz in Houston that are evergreen in the trend of styles and fashion for several decades. 14K gold teeth grillz matches the best with every apparel, outfit, celebration, occasion, and individual. Check out these fine and attractive 14K gold teeth grillz styles you will definitely love to wear.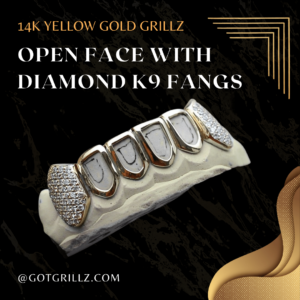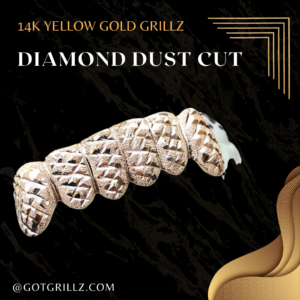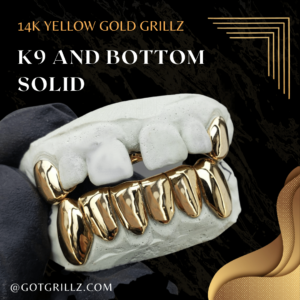 14K Rose Gold Grillz
Perfect for young girls, 14K rose gold grillz are now available at GotGrillz. Most of our customers prefer buying rose gold teeth grillz to gift a daughter, friend, or family member. Some of our famous 14K rose gold grillz are as follows: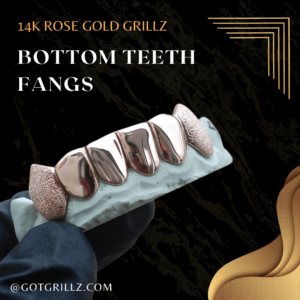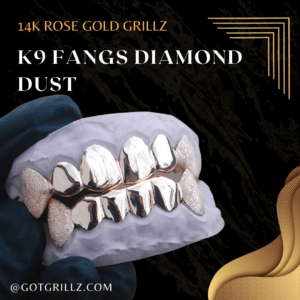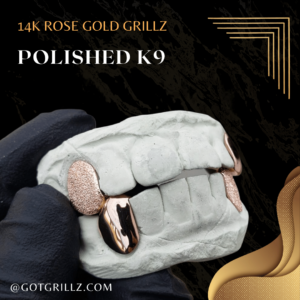 14K Black Gold Grillz
14K black gold teeth grillz can be a great choice if you love to wear black gold and diamond grillz. Here are some of our popular black teeth grillz to buy at affordable prices.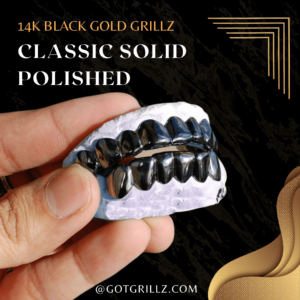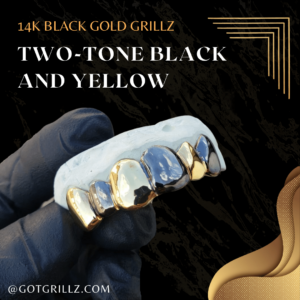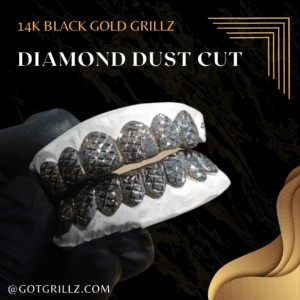 10K vs 14K Gold Grillz – Which Teeth Grillz To Choose?
10K and 14K gold teeth grillz has their own advantages as well as disadvantages that most people will search for before purchasing. Our well-versed and experienced professionals are asked by most of our customers whether they should choose 10K gold grillz or 14K gold teeth grillz. Although there are some differences between 10K and 14K gold teeth grillz, it will be easy to select the best suitable gold grillz if you know them. Here are some factors that may help you get a clear idea of 10K vs 14K gold teeth grillz.
Gold Purity (Karats)
Well, 10K gold grillz also referred to as 10 Karats grillz consists of 10 parts gold and 14 parts other metal/alloys. 10K gold grillz has 41.7% of gold purity which is lower than 14K gold grillz. While 14K gold teeth grillz has a gold purity of 58.3% and consists of 7 parts of pure gold and 17 parts of silver combined with nickel, zinc, or copper. 14K gold teeth grillz has a higher percentage of pure gold and hence, it is more resistant to oxidation.
Price Range
As you know, 14K gold grillz have more gold purity than 10K grillz, it is expensive. But on the brighter side, you will save the efforts as well the time needed for the maintenance of 14K teeth grillz as it has high resistance to tarnish. Especially, 14K gold teeth grillz are softer than 10K grillz when we are considering wearing or using the teeth grillz for your mouth. We recommend choosing the most suitable teeth grillz for you from our online teeth grillz store as both 10K and 14K gold teeth grillz are available.
Durability and Hardness
When it comes to durability, 10K gold grillz wins as it has high alloy content and therefore, is more durable. Being highly durable, 10K gold teeth grillz will not easily bend and is highly resistant to scratches or any other physical damage. So, 10K grillz are better than 14K teeth grillz when considering durability. But 10K gold grillz are also harder than 14K gold grillz which is why most of our customers choose 14K variants to avoid any discomfort due to hardness.
Color
Although both teeth grillz variants (10K and 14K gold grillz) have a golden yellow color, 14K Gold Teeth Grillz have a darker and deeper shade of yellow. If you can afford 14K Gold Teeth Grillz, it will be the perfect grillz to wear to get an enhanced appearance. But if you like a light yellow shade on your teeth grillz, then you can choose 10K Gold grillz as well.
Order 14K Grillz Now At GotGrillz!
Our exotic collection of 14K teeth grillz can help you nail down any special occasion or event. It will be beneficial for you to check out our wonderful 14K gold and diamond teeth grills. At GotGrillz, we have a wide range of variety when it comes to selecting a unique design and style of your choice for 14K Gold Grillz.
If you prefer highly personalized design and style for teeth grillz or if you want our expert teeth grillz manufacturers to make the exact teeth grillz like your favorite pop star or rapper, then GotGrillz will not let you down. We make custom teeth grillz in many shapes and sizes, depending on our valued customers' needs. At GotGrillz, you can order custom diamond grillz for 8K, 14K, and 18K Gold. Our highly experienced and skilled professionals will be more than happy to craft beautiful, astonishing, and dazzling teeth grillz for you. To get more information, feel free to give us a call at (832)-781-4528. Follow GotGrillz on social media on Facebook and Instagram.