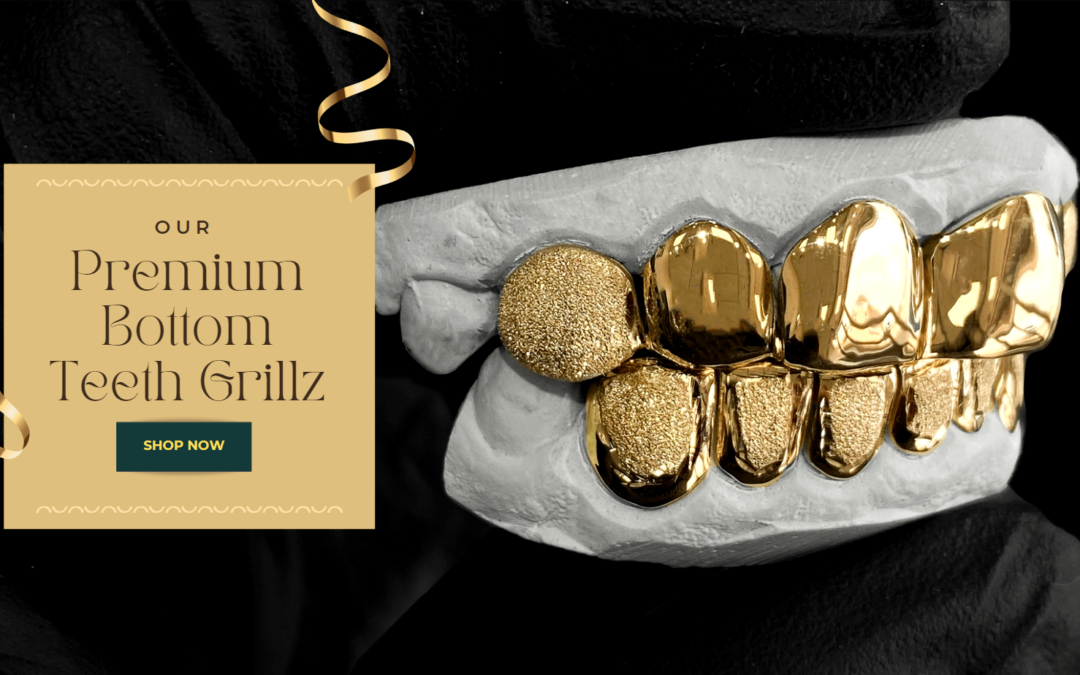 Bottom Teeth Grillz is a type of jewelry that can be worn on the bottom teeth. But as you know, bottom grillz are always smaller than the top teeth grillz which is why it is recommended to choose the right teeth grillz for your mouth. Although bottom teeth grills have been around for years, they are becoming increasingly popular among young girls. If you are planning to wear bottom teeth grillz on any special event, occasion, or party, you must choose teeth grillz that are not only attractive and beautiful but also comfortable for your mouth.
Well, bottom grillz can be made from gold, silver, porcelain, or acrylic and they are available in many different shapes and sizes. There is a wide range of designs and styles available when we are talking about bottom grillz in Houston, Texas. However, it is important for you to know that there is no right or wrong way to wear or choose them. That's because it is all about personal preference as well as choice. Most people will select the bottom grillz based on their personality, outfit, and to match with their apparel.
The most common way to wear bottom grillz is by placing them on the lower row of your teeth so that they are visible when you smile. Of course, you would not want your shining gold and diamond bottom teeth grillz to hide when you grin. Shining gold bottom grillz or sparkling diamond bottom grillz are what you will need to outshine everyone around at any gathering or celebration. With hundreds of styles and variants available in the market, it may be a little confusing for you to choose the best bottom teeth grillz that matches your identity and persona. 
In this article, we are going to cover all the trendy bottom teeth grillz designs and styles that you would surely like to wear in the next event.
How to Choose the Right Style of Bottom Grillz For You
Bottom grillz are an essential part of a person's style and personality. A teeth grillz that perfectly matches your apparel, character, and persona can actually make you the center of attention where you go. It will be a piece of cake for you to nail down any event or special occasion you are planning to attend. Bottom grillz can be worn with any type of outfit, be it for a casual outing or for a formal event. Simple but classy teeth grillz will let you blend with the crowd but will make grab everyone's attention while you talk or smile. In the same way, stylish teeth grillz can enhance your personality to the next level.
There are many different styles to choose from when it comes to bottom grillz. The most popular types are the "full bottom" and the "half bottom". Full bottom grillz cover all the teeth on both rows, while half-bottom only covers a single row. It is important to know which style is best suitable for you before purchasing your grillz so that you can find a perfect one. Whether you prefer shiny yellow gold bottom grillz or if you need sparkling white diamond bottom grillz, you need to select it based on your interest and persona. A friend or family member's advice is always helpful when it comes to selecting something important for yourself.
Our Exclusive Bottom Teeth Grillz Collection
The best bottom grills for girls in 2022 are indeed a lot different in terms of designs, styles, and material combination. Nowadays, people love to order bottom grillz that are more personalized and customized to get what they actually need. Grillz have evolved over time and now they come in all shapes, colors, and designs. The new trend is to have a grill that matches your personality or apparel. Here are some of our popular and trending bottom teeth grillz:
Gold Bottom Teeth Grillz
Peek through our exotic collection of gold bottom grillz and order your favorite ones to wear on an amazing event or occasion. Below are some of our popular gold bottom teeth grillz.
White Gold Channel Set Princess Cut Diamond Bar Bottom Grillz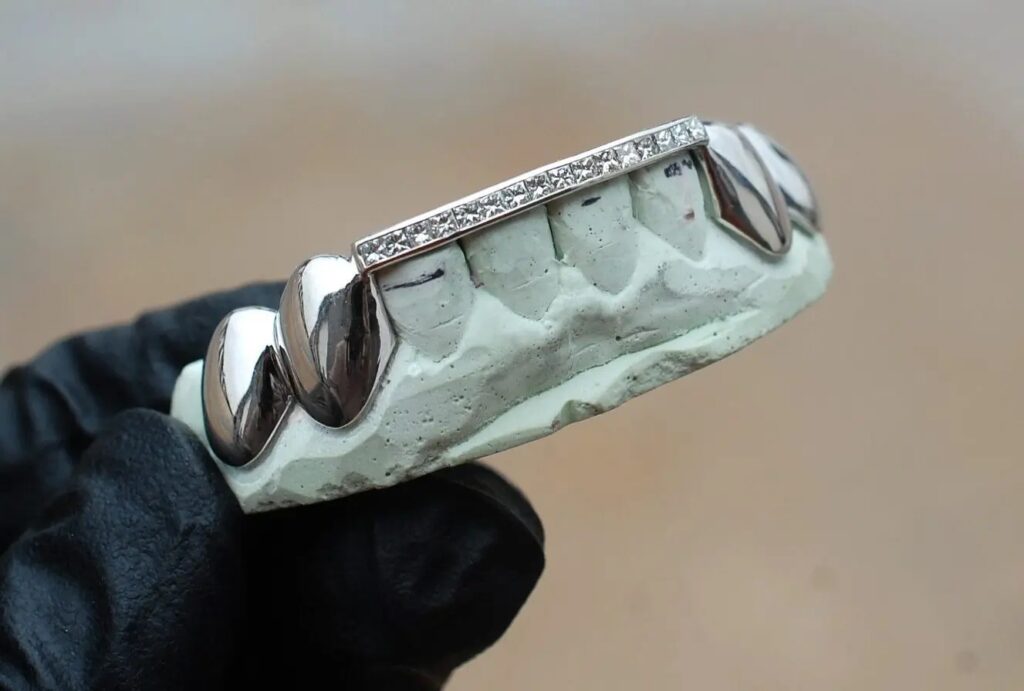 Yellow Gold Gap Bar Grillz K9 Fangs and Bottom Open Face Grillz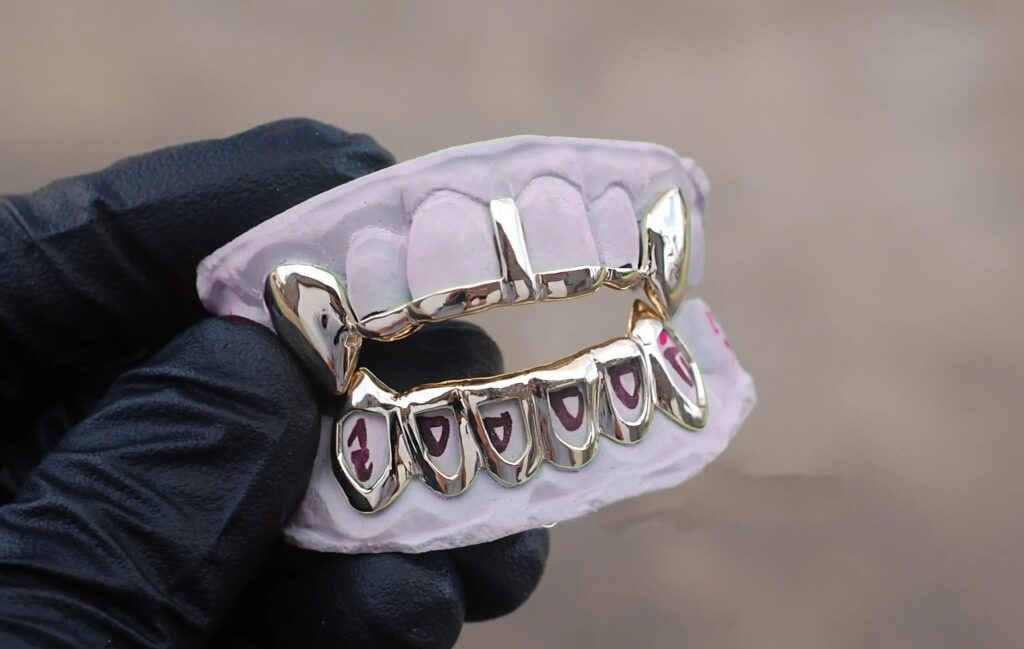 Diamond Bottom Grillz
Our sparkling and glittery diamond bottom teeth grillz can help you nail down the outfit or apparel you are wearing on a special day. Have a glance at our best-selling diamond bottom grillz collection.
White Gold Gap Bar Hook Style Iced Diamond Bar Bottom Kim K Grillz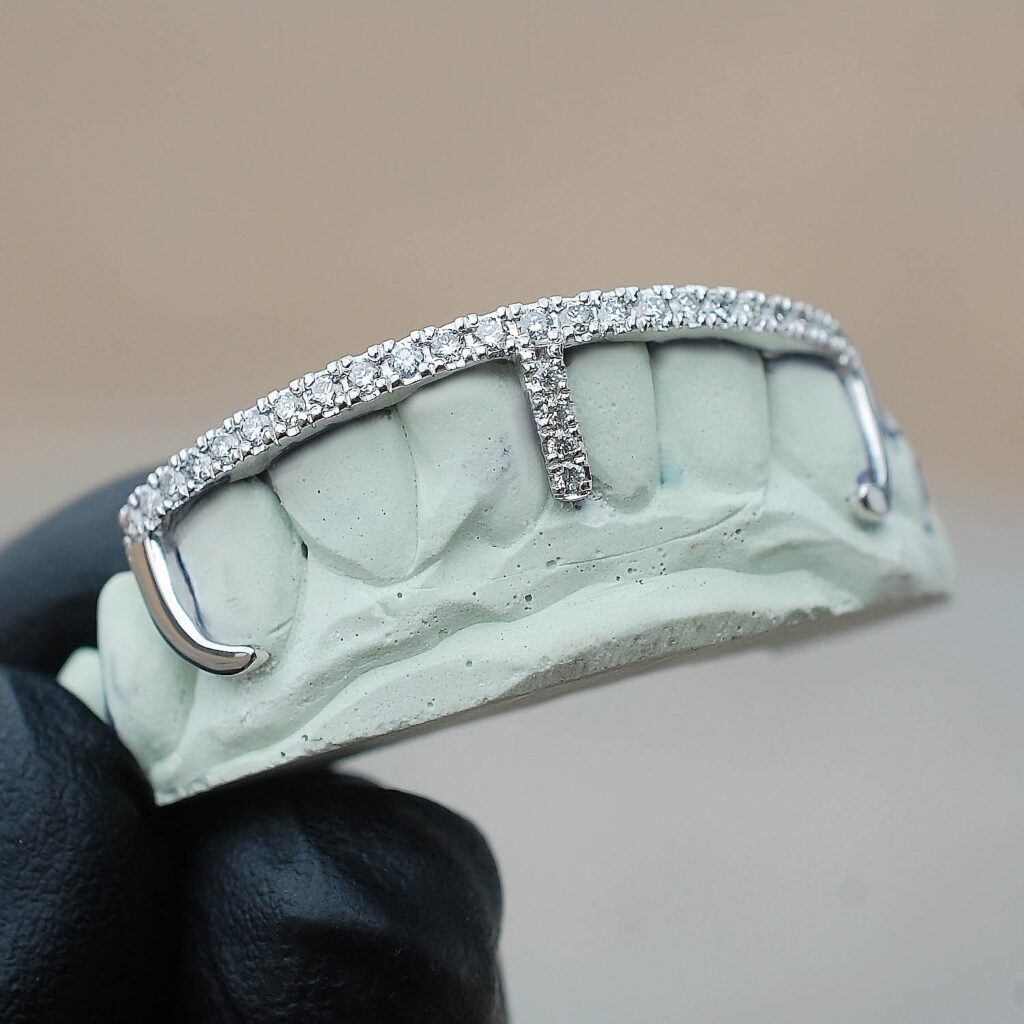 White Gold Solid Top Diamond Bar Bottom Grillz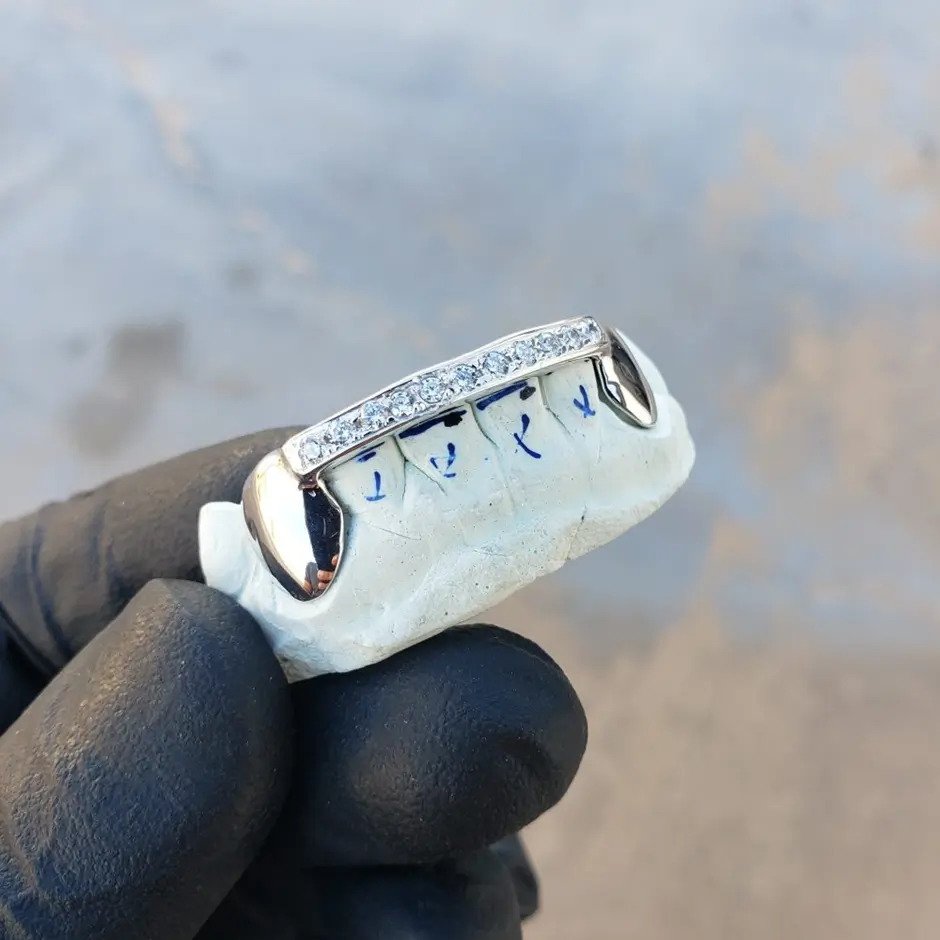 K9 Fangs Bottom Grillz
We have the prettiest collection of K9 bottom grillz which lets our valued customers have a bold and cool look. Go through our K9 Fangs Grillz collection and order now.
Yellow Gold Open Face with Diamond K9 Fangs Grillz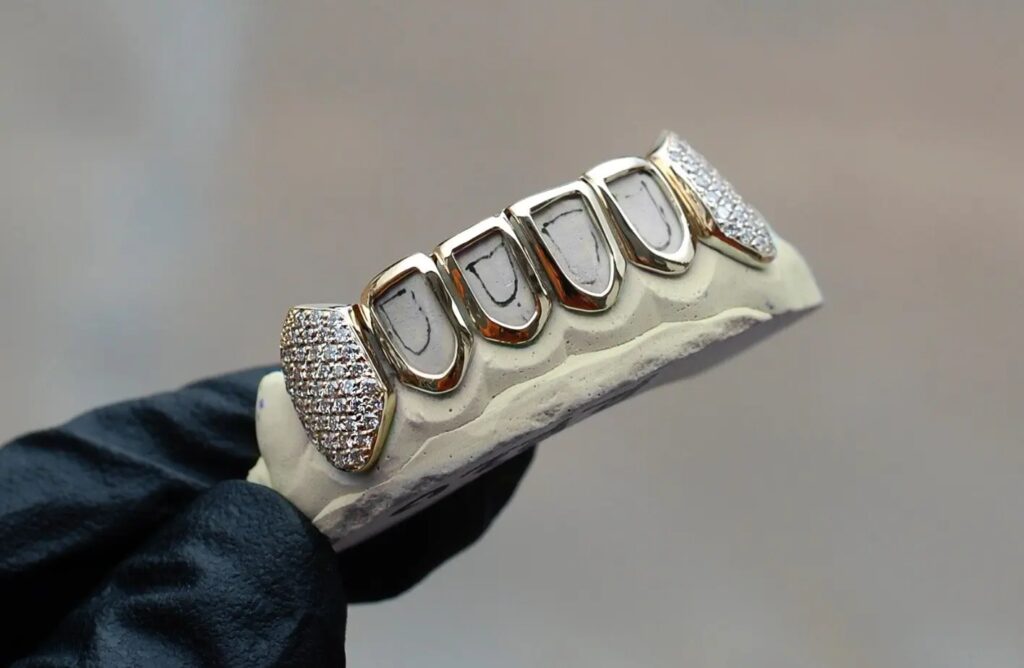 Yellow Gold Solid Polished K9 and Bottom Solid Grillz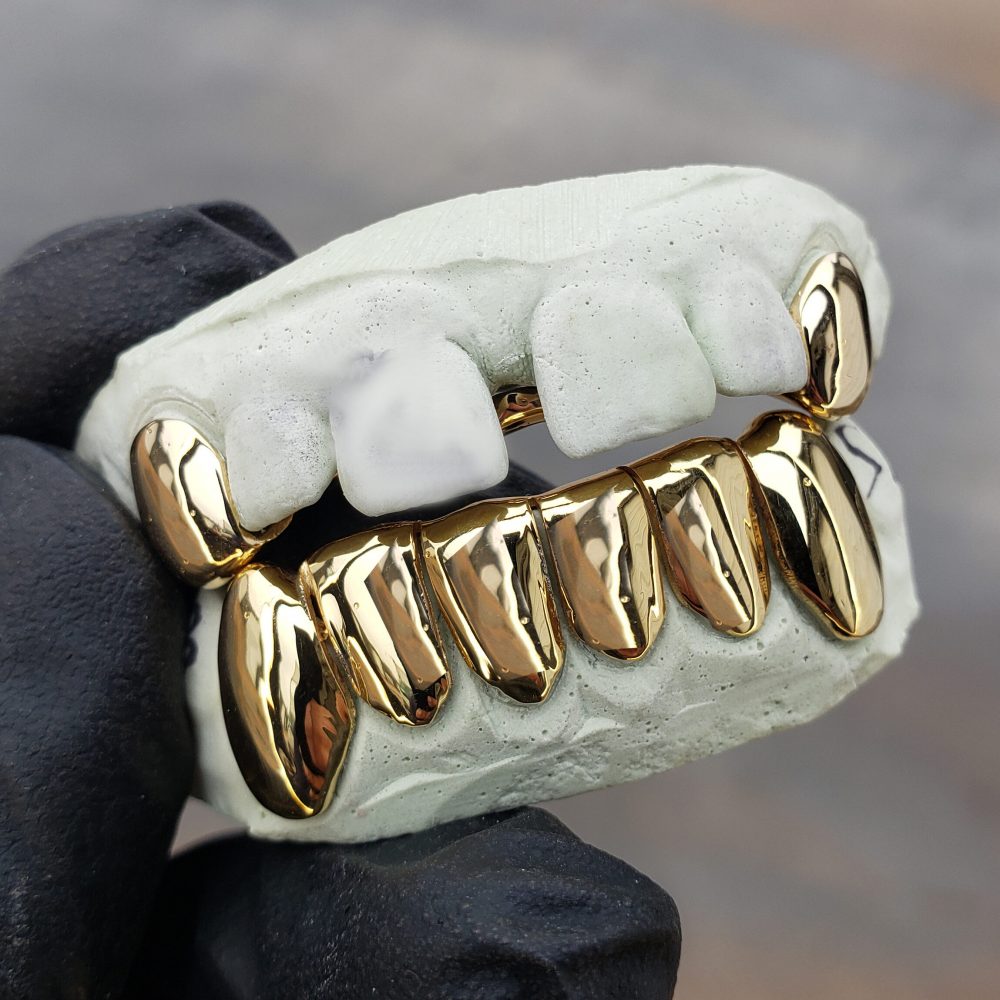 Order The Best Bottom Teeth Grillz Online At GotGrillz
At GotGrillz, we have the most exclusive collection of bottom teeth grillz. Go through our premium range of teeth grillz including a wide variety of unique and astonishing styles and designs. We have been crafting beautiful and magnificent jewelry in Houston, Texas including our best-selling custom gold and diamond teeth grillz. With more than a decade of experience, our team of skilled and expert teeth grillz manufacturers has the needed expertise in making premium quality bottom grillz.
If you want to order the best quality bottom grillz online then scroll through our official online store or contact our professionals. Your favorite bottom grillz are just a few clicks away. Get it now by giving us a call at (832)-781-4528. To get the latest updates about our designs and styles for Bottom Teeth Grillz on Social Media, Follow GotGrillz on Facebook and Instagram.
FAQs About Bottom Grillz
Where can I get bottom grillz online?

GotGrillz is the best online Jewelry store to get the best quality bottom teeth grillz at a relevant price range. We have a wide range of variety be it the style you need, the design you wear, or the color you prefer. GotGrillz have them All! Shop through our exclusive collection of custom gold and diamond teeth grillz now. Click Here.



How much do bottom grillz cost?

Well, the cost of bottom teeth grillz totally depends on the purity of gold or metals along with the style, design, and variants. However, the average bottom teeth grillz made up of 10K gold will cost approximately between $500 to $700. To get the exact cost of bottom teeth grillz, you can give our expert professionals a call at (832)-781-4528.



Are bottom teeth grillz safe for my mouth?

Bottom teeth grillz are perfectly safe for your mouth but there are a few things that should be taken care of such as,

-> Don't wear grillz for an extended period of time
-> Make sure to clean grillz after wearing off
-> Clean them regularly
-> Better taking them off while eating and sleeping
To know more tips and information about how to wear bottom teeth grillz to get optimum dental health, reach out to our experts at (832)-781-4528.